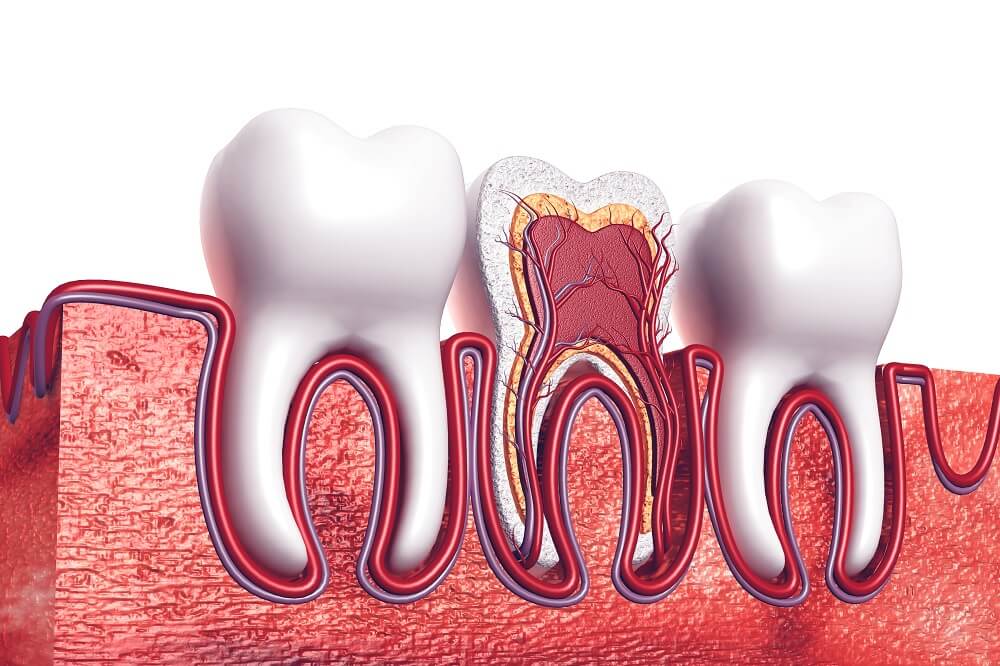 Why is root canal complete with crown? When the pulp inside a tooth becomes infected, a root canal is often the best treatment for fixing the problem and alleviating your pain. Root canals can save your teeth from further decay and dental issues. However, when a root canal is performed, the affected tooth becomes weaker.
What is the Root Canal Process?
A root canal is performed when there is an infection within the tooth. Your dentist will gain access to the center of the tooth to remove the infection, therefore stopping the infection altogether. When an infection reaches the inside, or pulp, of the tooth, it is called pulpitis.
Before a root canal, your tooth can be in severe pain, but the procedure will help remove the pain completely.
What is a root canal and what happens during treatment? Learn more HERE.
Root Canal Complete with Crown: Why Crowns are Added
When a tooth becomes weak over time from a root canal, they can fracture and cause further dental problems.  This is why root canal complete with crown is necessary after a root canal, to provide you with a strong and healthy tooth to protect your oral health.
Therefore, it is standard practice in dentistry to add permanent fillings to protect your tooth from bacteria and further damage after a root canal. After the filling, a crown will be placed to provide strength and protection to the filled tooth. Not only does this provide bacteria protection to your tooth, but it also looks natural.
Learn what to expect during a root canal treatment.
Related Articles:
Who Needs a Dental Crown After a Root Canal?
Needing a crown after a root canal will mostly likely depend on the location of the affected tooth. Teeth towards the back of the mouth like molars and premolars are needed more for chewing, and generally require crowns, where incisors or canines which are not needed for chewing do not always require crowns.
If you suffer from any kind of teeth grinding, it is also especially important to get a crown after a root canal. When your teeth grind, immense pressure is put on your teeth, and on a weakened tooth from a root canal, this can cause major damage.
Learn more about dental crowns from WebMD HERE.
Related Articles:
To summarize, crowns after a root canal provide these major benefits:
Infection prevention.
Back-up security.
Natural looking tooth and color.
Protect you from tooth sensitivity.
Restore a fragile tooth.
Curious to learn more about a root canal treatment and crowns after a root canal? Contact us today and we would love to answer any of your questions!
Dr. Stephan Caye and his friendly, experienced team at Premier Dental offer affordable family dentistry and invisible braces in the Lee's Summit, MO area. Our office is conveniently located off of Highway 50 and SE Blue Parkway. We offer appointment times Monday through Friday to meet your needs. At Premier Dental, we provide most dental health services, from family and general dentistry to specialty procedures, including tooth replacement options, such as dental implants and dentures, endodontic or root canal treatment, teeth whitening, cosmetic dentistry, emergency dental care and much more. We accept most dental insurance plans and offer affordable financial solutions for any budget. Please call us at (816) 600-6330 to schedule an appointment.