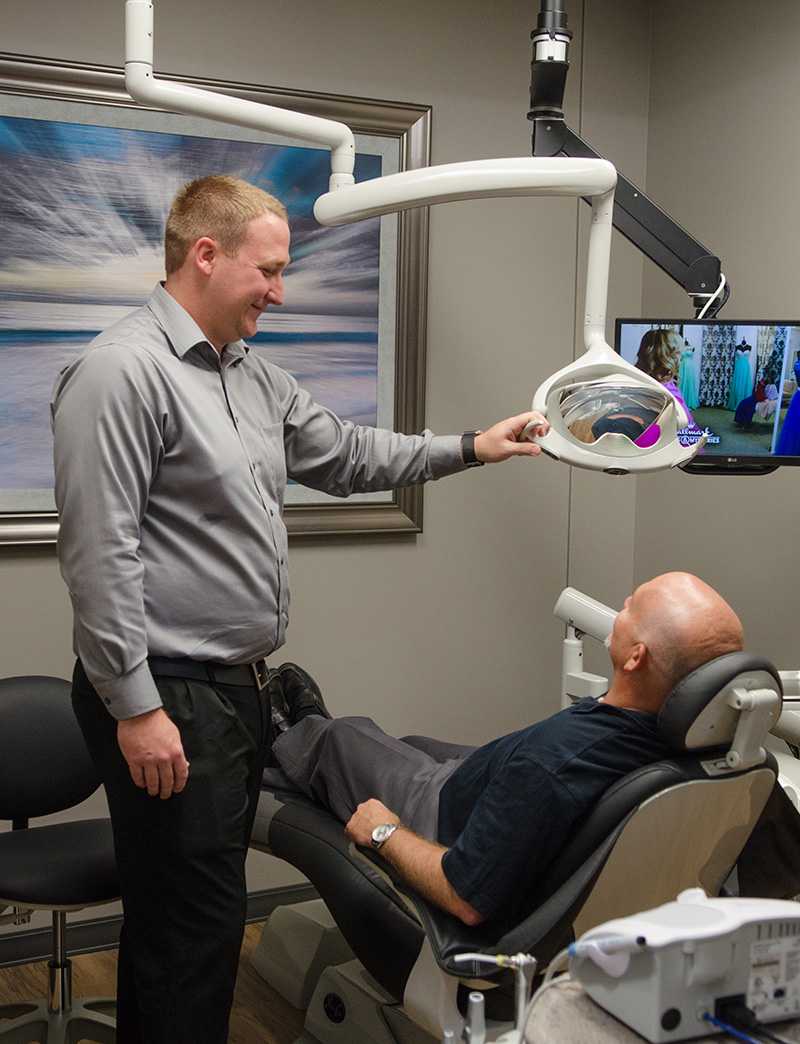 A healthy mouth starts with prevention. Our staff at our dental office in Lee's Summit takes pride in helping you maintain a beautiful smile in a relaxing and comfortable setting. Our check-ups include education on proper brushing and flossing techniques, intra-oral cameras to help show the health of your teeth in natural color, gentle cleaning, meticulous oral cancer screening, and cavity detection using the latest in digital x-rays.
Family Dental Care
Dr. Caye and his team at Premier Dental want you and your family to have beautiful, functional smiles throughout your lifetimes. That begins with a strong foundation of oral health. Our team provides general and family dental services.
Whether you are 2 or 102, you'll need regular checkups, exams and cleanings. You may even need fillings, sports mouth guards or root canals. We offer all of these services and more with convenient appointment times to accommodate your entire crew during the same visit.
We're ready for little patients too! Your kiddo's appointment will be over before they know it… they can play games on tablets in our kid zone while they wait and watch a movie during their cleaning and exam. Of course, they'll get to choose a goodie from the treasure chest after their appointment is complete as reward for a job well done!
See us regularly, so you and your family can benefit from the healthy, bright smiles you deserve.
Emergency Dental Care In Lee's Summit
We understand that accidents and emergencies happen and when they do, you can count on our team for emergency dental care in Lee's Summit,MO. Broken, cracked or fractured teeth can cause a tremendous amount of pain. Let our caring team come to the rescue.
Contact our dental office in Lee's Summit at (816) 600-6330 immediately to receive the emergency treatment you need.
We are happy to accommodate you with a same day appointment.  If your emergency happens after our normal office hours, just follow the prompts and your call will be redirected to our after-hours line so we can connect with you quickly.
Fast thinking and swift action can mean the difference between saving a tooth and losing it. Premier Dental has the tools and the experience to get you out of pain and back to your daily activities quickly. Remember, delaying treatment for a dental emergency may increase the risk of permanent damage resulting in more extensive and costly dental treatments in the future.
Technology
At Premier Dental, we use state-of-the-art technology to provide high quality dentistry while saving you time and trips to our office. A few of our technology gadgets that set us apart from other offices include:
CEREC scanner:  takes digital scans of your teeth without the need for messy impression materials
CEREC milling unit: produces high quality crowns that are delivered the same day eliminating the inconvenience and need for temporary crowns
Intra-oral camera: allows us to better communicate your dental needs by showing you color photos of your teeth and gums
Digital x-rays and panoramic machine: provides high resolution images enabling early cavity detection and conservative treatments
Additional Dental Services
While our goal is to prevent dental problems before they happen, we are well equipped to restore your smile if any issues arise. We provide a full range of general and cosmetic dentistry including:
SureSmile Clear Aligners
Same day crowns
Implant crowns
Bridges
Gum disease prevention and treatment
Kid cleanings for any age
Sealants
Tooth colored, mercury free fillings
Root canals
Extractions
Full and partial dentures
Custom bleaching trays
Scaling and root planing
Custom sports mouth guards
For More Information Give Us a Call Today at 816-600-6330!