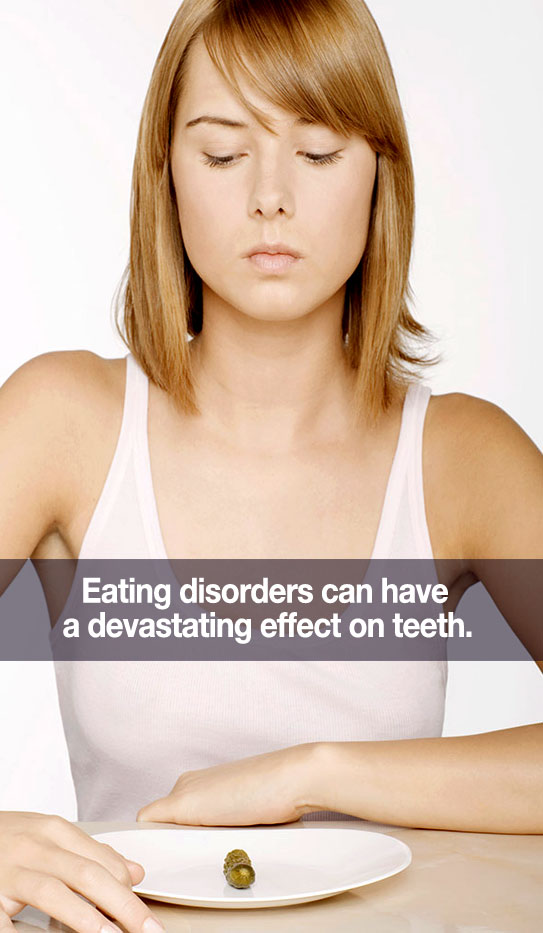 Eating Disorders Can Cause Dental Problems
The body is all interconnected. When something is wrong in one area, other areas can also be greatly affected. Eating disorders are an example of this phenomenon within the body.
Related Article: Oral Health Problems and Overall Health: How Connected Are They?
When you experience an eating disorder, other parts of your body, such as your teeth and gums, may be affected in a way you never thought possible. For example, eating behaviors can affect your oral health in many ways, such as:
Dry mouth
Tooth decay
Soft palate damage
Tissue/enamel loss
Redness and cuts inside the mouth
Discoloration
And more
See more information HERE regarding signs, symptoms, side effects and dental problems caused by bulimia from EatingDisorderHope.com.
Related Article: Tooth Decay: Don't Be A Statistic 
Your Dentist Can Help
According to Eating Disorder Hope, "dentists are recognized as being some of the first health care professionals to whom a previously undiagnosed eating disorder patient (EDP) may present."
Read more on the resources provided by Eating Disorder Hope HERE.
Dentists can be essential in identifying the first signs of an eating disorder. Without identifying dental issues, someone could live with an eating disorder for years without any help. If your dentist asks you about your signs or symptoms, consider being honest and open with them to take the first step toward recovery and improved oral health.