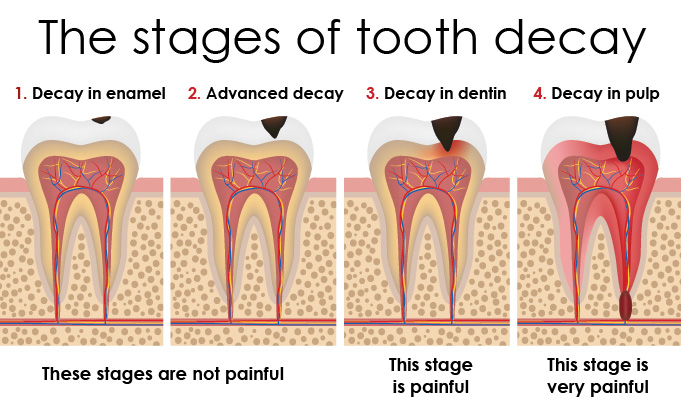 Proper oral hygiene practices are necessary to ensure that teeth, gums, tongue, and cheeks are in top condition.
In the United States, oral health is a significant concern. Although patients are often encouraged to adopt healthy oral habits, not many people adhere to these principles. As a result, a vast number of U.S. citizens, both young and old, are suffering from the adverse impacts of oral disease. Presently, tooth decay is the most common chronic disease among adolescents — a statistic that signifies the gravity of the dental health crisis affecting the United States.
What is Tooth Decay
Tooth decay is deterioration of the outer layer of a tooth, specifically the enamel. When this transpires, the enamel is weakened and susceptible to infection and other damaging conditions.
The breakdown of teeth shows in the form of cavities. Professional dental treatment is required to treat tooth decay and prevent further injury to the tooth.
How is It Caused?
Food & Drink Consumption:
A typical cause of tooth decay is the consumption of food and drink. Sugar and starch cling to teeth after eating or drinking. Foods containing these ingredients, such as candy, dried fruits, soda, and alcohol, adhere to teeth and cause cavities.
Plaque:
Tooth decay is also caused when plaque forms on teeth. It is a sticky film that results when bacteria, acid, saliva, and food debris combine. Over time, plaque builds up on teeth, weakening the enamel of the tooth. If not cleared away by brushing or cleaning, it will lead to decay and eventually cavities.
Poor Oral Hygiene:
Choosing not to brush teeth every day has its consequences. Tooth decay is a result of poor oral hygiene, as the buildup of plaque and bacteria can cause deterioration.
Related Article: Children's Oral Health Tips: Habits that will last a lifetime
Medication & Medical Issues:
Certain prescribed medications, as well as cancer treatments, can contribute to tooth decay. They are known for causing dry mouth and impacting the composition of saliva. Also, medical issues, such as eating disorders, diabetes, and cancer, can lead to deterioration of the teeth.
Why is It Affecting U.S. Citizens?
U.S. citizens are vastly affected by tooth decay, caused by poor oral hygiene, inaccessible dental care, and a lack of awareness surrounding good dental practices.
The age group most affected by cavities is young children, as 53% of children 6 to 8 years of age have cavities. Further, over 40% of children are affected by tooth decay by the time they reach kindergarten.
As for adults, data indicates that 1 in every 2 adults is affected by periodontal disease. And 1 in 4 adults, aged 65 and older do not have their original teeth. These findings highlight the concerns around national dental and health care.
Premier Dental Wants to Improve Your Dental Health
At Premier Dental, our team is committed to helping patients better their oral health. Through education and the implementation of oral procedures, our goal is to support patients on the recovery of their oral health. We aim to improve their dental conditions and make dental care accessible. To book an appointment with our Lee's Summit dental office, contact us.
Related Article: Premier Dental is your Local Dentist in Lee's Summit
Dr. Stephan Caye and his friendly, experienced team at Premier Dental offer affordable family dentistry and tooth replacement options in the Lee's Summit, MO area. Our office is conveniently located off of Highway 50 and SE Blue Parkway. We offer appointment times Monday through Friday to meet your family's schedule. At Premier Dental, we provide most dental health services, from family and general dentistry to specialty procedures, including endodontic or root canal treatment, teeth whitening, cosmetic dentistry, emergency dental care and much more. We accept most dental insurance plans and offer affordable financial solutions for any budget. Please call us at (816) 600-6330 to schedule an appointment.