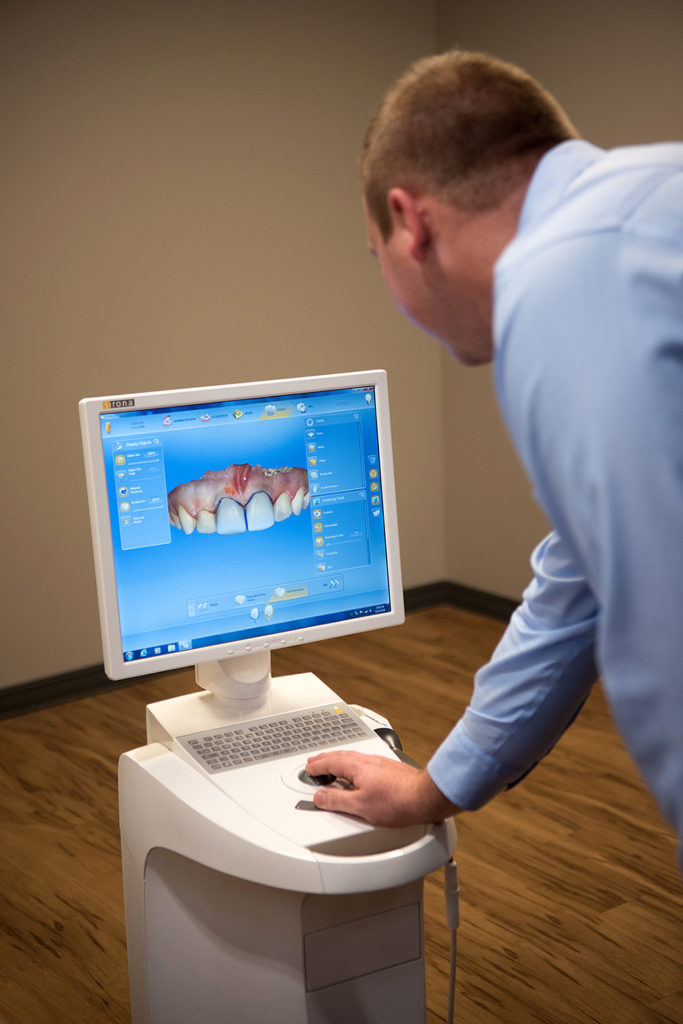 Restore Your Smile
Taking the time off work to attend multiple dental appointments to fix a broken tooth can be extremely inconvenient. Thankfully, with CEREC technology, Premier Dental offers easy, same-day crowns that eliminate the hassle of multiple appointments.
According to Dental Economics, a CEREC same day crown is one of the most researched dental procedures in history. Analysis over the materials and procedure have lived up to many years of scientific scrutiny, creating a high track record that other dental procedures are hard-pressed to compete with.
Read more about Dental Economics
Related Article: CEREC Crown: Fact OR Fiction?
Differences: Traditional vs. CEREC Crowns
Traditional Crowns
CEREC crowns and traditional crowns are extremely similar, with the main difference lying in the procedure methods. With traditional crowns, a dentist will assess the area of the broken tooth and take impressions of the area using a paste. Once the impressions are set, they are sent off to a lab to create a permanent crown to implant during another visit to the dentist's office. During this waiting period, temporary crowns are usually given to the patient to wear until the permanent crown arrives.
With the traditional crown, there are multiple options for materials, such as:
Porcelain/ceramic
Metal
Porcelain and metal combination

Many things can contribute to a missing or damaged tooth. Carbonated drinks and eating sugary foods on a consistent basis can play a disturbing role. These can result in deterioration of your teeth over time or cavities. The lack of oral hygiene after eating these foods or overall can impact the strength and health of your teeth.
Accidents or dangerous falls resulting in chipped teeth can also affect your confidence you're your smile. However, with an experienced dental team, employing the right procedures and techniques to better your smile is possible. Premier Dental in Lee's Summit offers their patients dealing with damaged teeth, the opportunity to have their teeth fixed in one day with a CEREC crown.

The dental crown has been a basic staple in the dental profession's bag of tricks for many years. Getting a crown is probably one of the most common and well known of all dental procedures.
What is a Dental Crown and Why do I Need It?
A dental crown is a type of dental restoration when a tooth-shaped cap is placed over a decayed or damaged tooth. It entirely covers the tooth above the gum line. A dental crown can make your tooth stronger and improve its appearance. For example, a crown can strengthen a tooth that has a large filling when there isn't enough of the original tooth to actually hold the filling. A crown can also be used to cover a tooth that is discolored or badly shaped; or to cover a dental implant.
Not only is the patient's oral health improved by restoring and strengthening a tooth with a dental crown, but it will also look beautiful, like a brand new tooth.