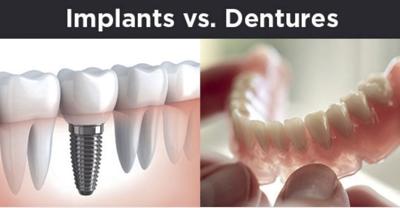 Losing teeth can be frustrating and upsetting. Thankfully, there are two wonderful options that can bring your smile, and your dental health, all together and looking beautiful. These options are dentures and dental implants, but what's the difference between the two? Let's dive into what you need to know to make the best decision for yourself: Dentures vs Dental Implants.
Read more HERE about Implants vs. Dentures according to the American Academy of Implant Dentistry.
Dentures vs Dental Implants: Dentures
There are two types of dentures:
Full, or complete, dentures will cover the entire mouth. These are used when both the upper and lower jaw are missing teeth and replaces the teeth with natural-looking replacements.
Partial dentures use the remaining teeth to support a partial denture, meaning that the entire mouth will not be replaced.
Dentures have been a solution for a long time, but today's advancements in technology have made dentures top-notch. Today, dentures are made from the best materials and are fitted properly to the mouth so that eating, and speech aren't impaired. Dentures typically last anywhere between 7 and 15 years.
Related Article: Are Complete Dentures a Tooth Replacement Option for You?
Simply put, dentures are removable and mimic the look of real teeth. They can even match the shade of your natural teeth for a close match to your natural look! However, unlike dental implants, dentures are not anchored the jawbone, and this may be a great option for some, and not a great option for others. This may depend on what your dentist recommends, or what your personal preference may be.
Dentures vs Dental Implants: Read more about Comparisons and Contrasts HERE.
Dentures vs Dental Implants: Dental Implants
Unlike dentures, which are easily removed, dental implants are surgically placed into the jaw for a strong and immovable hold. There are multiple factors that determine if you may need dental implants, such as bone loss, extractions, etc. Unlike dentures, dental implants are a longer-lasting solution and function more like real teeth. The main difference lies in the surgery needed for dental implants.
Related Article: What Are My Tooth Replacement Options?
The process begins with the implants, which are screws or cylinders that are surgically placed into the jaw and serve as the artificial roots. Then, the healing process begins (3-6 months), and temporary teeth can be placed over the implants until the tissue is healed and ready for the next step – this process is known as osseointegration. Next, a crown or a bridge will be placed on top of the implant for your final look and feel. Hooray!
Talk to us about your dental concerns and we can evaluate your needs to discover what is best for your unique situation! Whether it's dentures or dental implants, we're here to help you achieve your best smile. Read more about the Restorative Dentistry treatments available at Premier Dental in Lee's Summit, MO.
Dr. Stephan Caye and his friendly, experienced team at Premier Dental offer affordable family dentistry and gentle dental care in the Lee's Summit, MO area. Our office is conveniently located off of Highway 50 and SE Blue Parkway. We offer appointment times Monday through Friday to meet your needs. At Premier Dental, we provide most dental health services, from family and general dentistry to specialty procedures, including dental implants, dentures, endodontic or root canal treatment, teeth whitening, cosmetic dentistry, emergency dental care and much more. We accept most dental insurance plans and offer affordable financial solutions for any budget. Please call us at (816) 600-6330 to schedule an appointment.