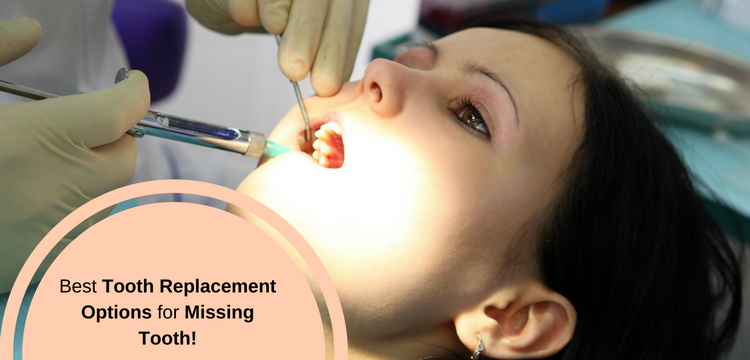 Tooth Replacement Options: For Confident Smiles

Although it is often an afterthought after you're done brushing and flossing your teeth, your oral health has a profound effect on your overall well being. When circumstances occur that a person requires tooth replacement options, it's important that the right tooth replacement options are offered that addresses their budget, needs, and unique preferences.
Thankfully, there are a variety of restorative dentistry treatment options to help patients increase their confidence and share their bright smile. Some available tooth replacement options available for patients who have lost one or more of their teeth include:
Tooth Replacement Options: Porcelain Dental Bridges
Dental bridges are a tooth replacement option that is used to replace a completely missing tooth. An artificial tooth is permanently joined to teeth on either side of the gap, bridging the area and restoring the usefulness of the area.
There are a variety of dental bridge types available, so discuss your options with your dental professional to find the best fit depending on your situation.
Tooth Replacement Options: Dental Implants
Unlike dentures, dental implants are a permanent tooth replacement option that feels almost natural to patients. These dental implants can be installed for one tooth or to replace all teeth, preventing other side effects of missing teeth like the loss of supportive bone and tooth trauma.
Dental implants act as a permanent replacement, placed into the jaw bone for a natural-looking and feeling result. Many people are looking to tooth replacement options that are permanent, and dental implants are the perfect solution.
Tooth Replacement Options: Dentures
Some patients are seeking a simpler tooth replacement method to restore their smile and maintain good oral health. If this sounds like you, dentures are your go-to choice. Cosmetic dentures are prosthetic teeth that can be removed. Denture adhesives or natural suction are commonly used to keep dentures from moving, leading some to choose implant-supported dentures.
The type of dentures and methods of minimizing slippage vary between people, so make sure you discuss your options with your oral health professional. It's important that you still take care of your oral health to keep plaque from forming and to maintain good gum health.
Tooth Replacement Options: Partial Dentures
Partial dentures are often used when porcelain bridges or dental implants are not available for the patient. These are removable prosthetics that help increase your oral health, appearance, and confidence.
Tooth Replacement Options: What's the best option for you?

Whether dentures, partial dentures, porcelain bridges, or complete dental implants are the best option for you, replacing missing teeth is vital in maintaining your oral health. Modern advancements in dental work mean that all tooth replacement options are natural-looking and comfortable, designed to keep patients happy and healthy.
For more information on the tooth replacement options offered by Dr. Stephan Caye and his professional team at Premier Dental, contact us today so that we can help find the best tooth replacement service for your lifestyle.
Dr. Stephan Caye and his friendly, experienced team at Premier Dental offer affordable family dentistry and gentle dental care in the Lee's Summit, MO area. Our office is conveniently located off of Highway 50 and SE Blue Parkway. We offer appointment times Monday through Friday to meet your needs. At Premier Dental, we provide most dental health services, from family and general dentistry to specialty procedures, including tooth replacement options, such as dental implants and dentures, endodontic or root canal treatment, teeth whitening, cosmetic dentistry, emergency dental care and much more. We accept most dental insurance plans and offer affordable financial solutions for any budget. Please call us at (816) 600-6330 to schedule an appointment.