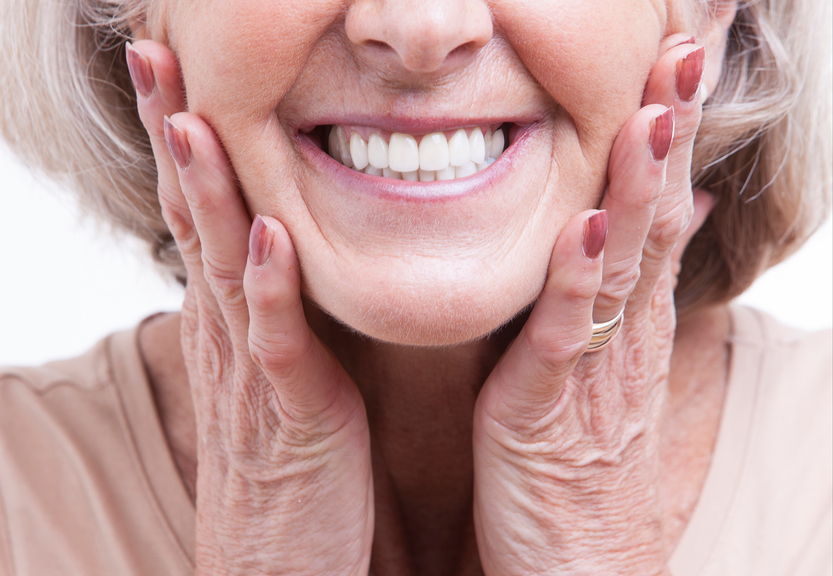 Dentures have long been a tooth replacement option, as they are removable teeth designed to replace missing teeth and keep your mouth healthy. Dentures make it easier to speak and eat and improve the overall appearance of your smile. Dentures also help prevent your facial muscles from "sagging".
There are two categories of dentures, complete dentures and partial dentures.
Complete dentures are required for patients who have no natural teeth left.
Partial dentures replace a few missing natural teeth and are attached to remaining healthy natural teeth.
Complete Dentures as a Tooth Replacement Option
There are two types of complete dentures available: immediate and conventional.
Conventional Dentures as a Tooth Replacement Option
Conventional dentures are full, removable dentures that are custom made to fit in your mouth after your natural teeth are removed and the gum tissue is completely healed.
Once your gum tissue is healed, the dentist takes an impression of your mouth and the denture is created to fit over your gums. The entire process of waiting for your mouth to heal and then making the dentures can take anywhere from three to six months.
The benefit of conventional dentures is that they usually fit more accurately and more comfortably than immediate dentures as a tooth replacement option.
Immediate Dentures as a Tooth Replacement Option
Immediate dentures are created before your natural teeth are extracted. They can usually be positioned immediately. The benefit of immediate dentures is that you don't have to go any amount of time without teeth during the healing process.
The primary disadvantage of immediate dentures as a tooth replacement option is that they require more adjustments to get the best fit. Bones and gums shrink over time, especially as your mouth heals from a tooth extraction. This significantly impacts how immediate dentures fit. For this reason, immediate dentures are usually only considered a temporary solution until conventional dentures are ready.
Partial Dentures as a Tooth Replacement Option
Partial dentures are a tooth replacement option when there are still a few natural teeth remaining. Partial dentures replace the missing teeth to preserve your smile and prevent the natural teeth from moving out of position. Partial dentures also help you chew and speak more naturally.
A fixed bridge is made by placing crowns on the teeth on either side of the open space. Then the false tooth, called a pontic, is attached to the crowns.
Removable partial dentures are made by attaching replacement teeth to a ceramic or plastic base that sits over your gums. Removable partial dentures are sometimes called flippers.
Who needs dentures?
Dentures are more prevalent than you might imagine. When teeth are badly decayed, infected, or damaged then often it's better to remove the teeth and have dentures made. It is best to save as many natural teeth as possible to avoid needing complete dentures. Read more here to find out if you are a candidate for dentures as a tooth replacement option.
Dentures help restore your smile and, more importantly, allow you to chew and speak more naturally. They also provide support for the jaw muscles and bones.
How much do dentures cost?
The cost of complete dentures depends on several factors, including the type of dentures you need and the types of materials your dentist chooses. Low cost dentures typically cost between $300 and $500 per denture but tend to lave shorter lifespans.
Premium dentures can cost as much as $8,000 or more for a complete set. These dentures, as a tooth replacement option tend to last longer and look better.
Dentures are perhaps the least expensive means of replacing missing teeth. Dental implants and bridges are more expensive but tend to fit better, be more comfortable, and last longer than dentures.
Many health insurance providers cover at least some portion of dentures. Be sure to consult with your dentist and insurance company about costs, payment options, and insurance benefits.
Related Article: Options for Tooth Replacements: Do You Have a Missing Tooth?
How long do dentures last?
With proper care, dentures typically last between 5 and 8 years. However, due to normal wear and because your gums and bones continue to change over time, most dentures need to be relined or remade regularly.
Poorly fitting dentures can cause discomfort and lead to serious problems like infections and sores. It is important to have your dentist check your dentures at least once a year.
Related Article: Dentures: Premier Dental Answers the Most Frequently Asked Questions
How often should you visit the dentist when you have dentures?
Even if you don't have any natural teeth left it is important to have a dental checkup every 6 to 12 months. Dr. Stephan Caye at Premier Dental in Lee's Summit will inspect your gums, tongue, and tissue to make sure everything is healthy and strong. Dr. Caye and his team also perform regular cancer screenings for various types of oral cancers during a dental checkup.
During these regular checkups, Dr. Caye can also make adjustments to your dentures to make sure they fit properly and aren't causing any problems.
Dr. Stephan Caye and his friendly, experienced team at Premier Dental offer affordable family dentistry and gentle dental care in the Lee's Summit, MO area. Our office is conveniently located off of Highway 50 and SE Blue Parkway. We offer appointment times Monday through Friday to meet your needs. At Premier Dental, we provide most dental health services, from family and general dentistry to specialty procedures, including dental implants, dentures, endodontic or root canal treatment, teeth whitening, cosmetic dentistry, emergency dental care and much more. We accept most dental insurance plans and offer affordable financial solutions for any budget. Please call us at (816) 600-6330 to schedule an appointment.