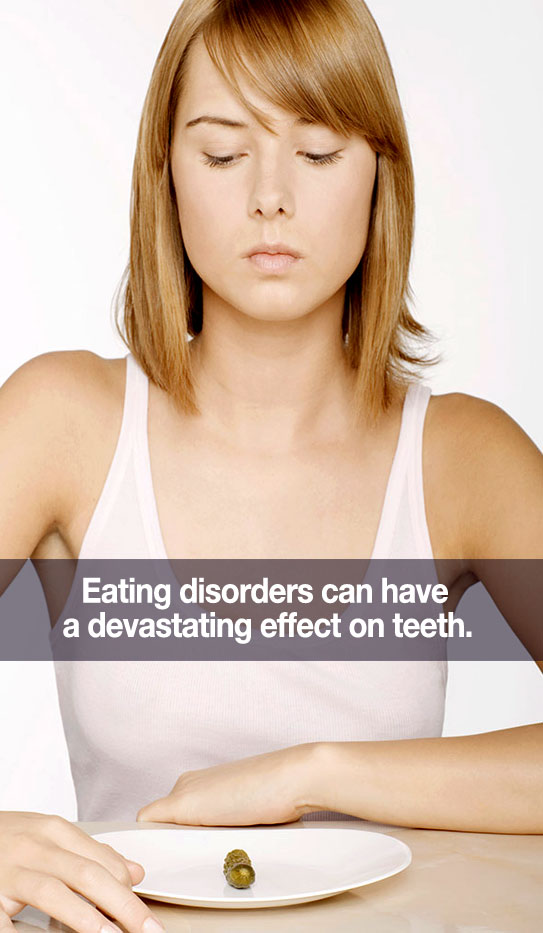 Eating Disorders Can Cause Dental Problems
The body is all interconnected. When something is wrong in one area, other areas can also be greatly affected. Eating disorders are an example of this phenomenon within the body.
Related Article: Oral Health Problems and Overall Health: How Connected Are They?
When you experience an eating disorder, other parts of your body, such as your teeth and gums, may be affected in a way you never thought possible. For example, eating behaviors can affect your oral health in many ways, such as:
Dry mouth
Tooth decay
Soft palate damage
Tissue/enamel loss
Redness and cuts inside the mouth
Discoloration
And more
See more information HERE regarding signs, symptoms, side effects and dental problems caused by bulimia from EatingDisorderHope.com.
Related Article: Tooth Decay: Don't Be A Statistic 
Your Dentist Can Help
According to Eating Disorder Hope, "dentists are recognized as being some of the first health care professionals to whom a previously undiagnosed eating disorder patient (EDP) may present."
Read more on the resources provided by Eating Disorder Hope HERE.
Dentists can be essential in identifying the first signs of an eating disorder. Without identifying dental issues, someone could live with an eating disorder for years without any help. If your dentist asks you about your signs or symptoms, consider being honest and open with them to take the first step toward recovery and improved oral health.
Eating Disorders and Dental Health
There are three common types of eating disorders recognized by the American Dental Association: anorexia, bulimia, and binge eating. Read more HERE.
Anorexia: Those who are experiencing anorexia may be extremely thin and have a fear of gaining weight. Depriving oneself of food can lead to a multitude of dental issues, such as: nutritional deficiency, bad breath, canker sores, swollen gums, dry and cracked lips, and more.
Bulimia: Bulimia is often associated with the fear of being overweight, similar to anorexia. However, there are often periods of overeating or overindulging, which may occur several times a day or throughout the week. When this happens, individuals may feel like they need to undo their actions and throw up. This is often known as binging or purging. This can lead to: damage to the soft palate, teeth changing in size or color or length, enamel loss, pulp infection or death, enlarged saliva glands, and more.
Binge Eating: Sometimes described as food addicts, binge eating is often when individuals overeat, or binge on food, without purging, this can lead to poor nutritional and oral health.
Get the Help You Need
Eating disorders can arise from a variety of issues, whether they be social, emotional, or physical. While the termination of an eating disorder is the best way to maintain your oral health and work toward a health life and recovery, there are a few treatments than can reduce harm to your teeth.
Consult with your dentist about your oral health needs.
Maintain your oral health routine – continue brushing and flossing daily.
If you do throw up, rinse your mouth with baking soda to neutralize acid.
For more information, or help regarding eating disorders, please contact the National Eating Disorder hotline at 800-931-2237, or visit their website.
Dr. Stephan Caye and his friendly, experienced team at Premier Dental offer affordable family dentistry and gentle dental care in the Lee's Summit, MO area. Our office is conveniently located off of Highway 50 and SE Blue Parkway. We offer appointment times Monday through Friday to meet your needs. At Premier Dental, we provide most dental health services, from family and general dentistry to specialty procedures, including dental implants, dentures, endodontic or root canal treatment, teeth whitening, cosmetic dentistry, emergency dental care and much more. We accept most dental insurance plans and offer affordable financial solutions for any budget. Please call us at (816) 600-6330 to schedule an appointment.