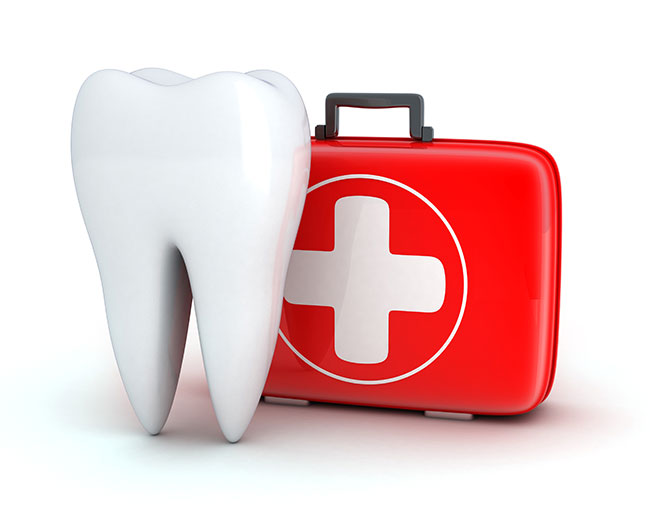 A dental emergency is identified as anything that requires immediate dental care. Whether it is to stop incessant bleeding, save a tooth, treat a dire infection, or decrease severe discomfort, urgent care is needed.
Some of the most common dental emergencies are pain resulting from inflammation and broken teeth.
Whatever the cause of acute oral discomfort you are experiencing in the Lee's Summit area, emergency dental care is available at Premier Dental. If you are experiencing pain or you are uncertain whether your situation requires immediate attention or not, consider the information below to help you choose to correct course of action.
Emergencies stem from a variety of causes and dental professionals can provide the necessary care. Receiving an assessment and subsequent treatment for the diagnosis is crucial to your recovery.
Related Article: Emergency Dental Care is available at Premier Dental
Gum Abscesses
A gum abscess is a very uncomfortable oral condition that arises from an infection. This disease occurs when food becomes lodged between the tooth and gum. If a gum abscess is left untreated, it can exacerbate the situation and impact other significant parts of the body such as the brain, connective tissues, muscles, and nerves.
Swelling & Bleeding
Swelling and persistent bleeding are other emergencies. These symptoms are typically indicative of gum disease. Improper hygiene and the buildup of plaque bacteria can lead to inflammation and uncontrollable bleeding. If you have been diagnosed with gum disease but have put off treatment, you will begin to notice the deterioration of the gums and bones that hold your teeth. Eventually, tooth loss is the result.
Broken Teeth
A broken, chipped, or fractured tooth can occur for a number of reasons. Clenching and grinding teeth can be a leading factor. However, generally, it is trauma to the mouth that causes most instances of damage. Immediate attention should be sought in order to treat any injuries. If pain and continuous bleeding result from fractured teeth, go to your emergency dentist so that they can repair the affected teeth. If fractured teeth are not fixed, they can become infected, and disease may spread to the head, neck, and other parts of the body.
Toothaches
In some instances, a toothache causing significant pain and discomfort may be a reason to see a dental emergency. An infection in the tooth's nerve is commonly the cause of a toothache. Should you be suffering from severe tooth pain accompanied by fever, swelling, tooth sensitivity to temperature changes, and other symptoms, it is an oral emergency. Leaving the toothache alone can result in more pain, as the infection spreads and leads to further complications such as tooth loss.
Premier Dental Provides Emergency Dental Care
Premier Dental offers many emergency dental services. Should you be experiencing severe, pain, swelling, tooth loss, or any other conditions that require urgent care, contact our office in Lee's Summit immediately. Our team of experts will work swiftly and meticulously to alleviate pain and solve the issue. Contact us to receive reliable emergency dental care.
Related Article: Dr. Stephan Caye, DDS: Your Local Dentist in Lee's Summit
Dr. Stephan Caye and his friendly, experienced team at Premier Dental offer affordable family dentistry and tooth replacement options in the Lee's Summit, MO area. Our office is conveniently located off of Highway 50 and SE Blue Parkway. We offer appointment times Monday through Friday to meet your needs. At Premier Dental, we provide most dental health services, from family and general dentistry to specialty procedures, including endodontic or root canal treatment, teeth whitening, cosmetic dentistry, emergency dental care and much more. We accept most dental insurance plans and offer affordable financial solutions for any budget. Please call us at (816) 600-6330 to schedule an appointment.