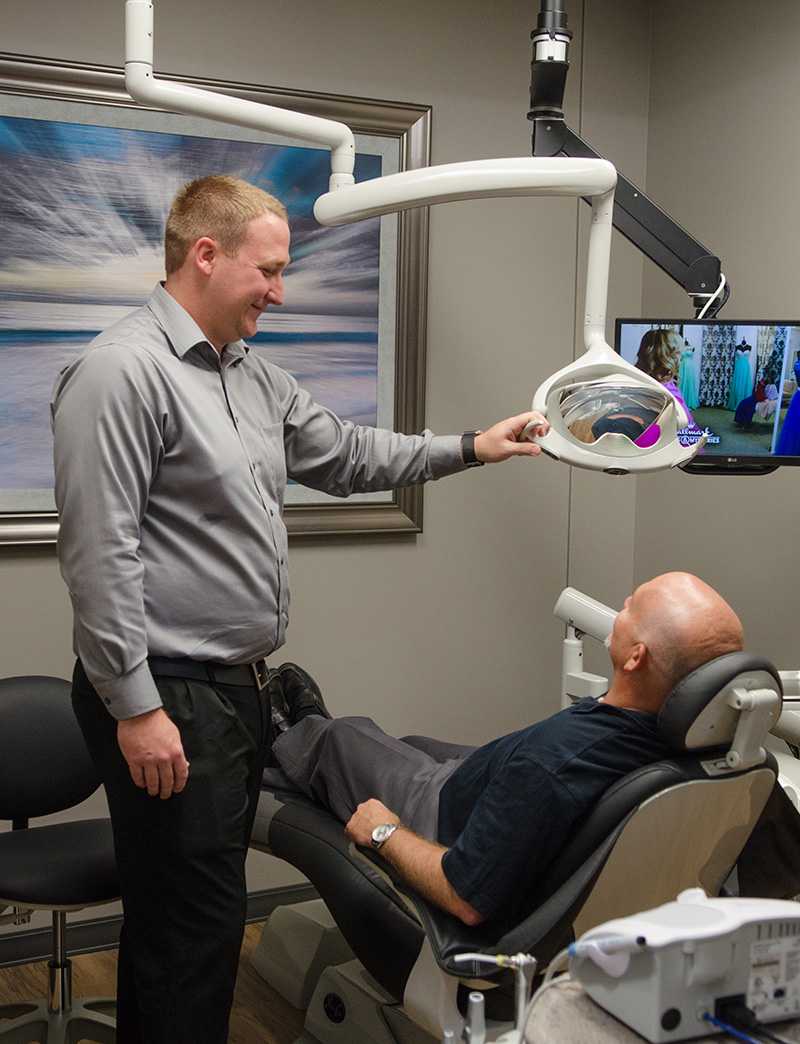 Corporate Dental vs. Private Dental with a Local Dentist

Large corporate franchises are some of the most prestigious and influential companies in the world today. As our economy continues to become more and more globalized, many local grocery stores, convenience stores, and restaurants, have been faced with the difficult task of competing head to head with these corporations, and often coming up short. While global corporations continue to dominate the distribution of goods and commodities, determining a clear-cut winner in the health care arena is much more difficult. Such is the case with a local dentist or privately owned dental practices as opposed to corporate dental centers.
In recent years, corporate dental clinics have been popping up in big cities and metropolitan areas around the country. While this is not unexpected, it does pose the question as to what the differences are between a corporate clinic and a private practice owned by a local dentist. And which one should I choose?
There are quite a few differences between these two possibilities, and could be a major factor in deciding which one is right for you and your family. Therefore, it is important to consider some of the following positive and negative aspects when making your selection.
Corporate Dental Clinics: The Pros and Cons
As mentioned previously, the appearance of low cost, corporately owned dental centers have become more and more widespread in recent years, and although they differ from the traditional private practice, they certainly have their own strong points.
Pros: Perhaps one of the most enticing aspects of corporate clinics is the prominently featured, economically friendly price range. Even though this can vary sometimes, it can certainly be a major selling point. Another strong point of dental centers is that they often have several dental practitioners on staff at once, which would offer additional appointment times and be well staffed in the case of a dental emergency.
Cons:  Although dental centers are created with good intent, and typically do provide good service, like any corporation, their operation process sometimes resembles that of an assembly line. In other words, dental clinics are designed to give you just the assistance you need, then move on to the next patient. Although this is time efficient, it leaves very little time to address any personal concerns or future issues. Many patients are essentially reduced to feeling little more than a number on a spreadsheet. This cold impersonal approach can sometimes be a bit off putting, particularly with small children, or those who may experience anxiety during dental appointments. In addition to this atmosphere, dental centers often alternate between multiple practitioners, therefore making it very difficult to build a personal relationship or anticipate your experience during your next appointment.
Private Practices with a Local Dentist: The Pros and Cons
In direct contrast to the almost machine-like corporate clinics, a private dental practices that are owned by a local dentist are generally based on trust and one's personal relationship with their dentist, thereby creating a very different environment than previously described.
Pros: As alluded to in the previous sections, one the highly favorable aspects of a privately-operated dental practice, is the high level of personalized care available to patients and their families. In a well-run private practice, you will be treated by a local dentist and staff who know you personally, understand your specific needs and concerns, and are prepared to make sure that you receive the dental care that is best for you as an individual, as opposed to treating you like just another patient.
Private practices generally exude a much warmer, friendlier atmosphere in which patients are treated out of care and concern; as a result any fear or anxiety that a patient may have during their experience would be put at ease. It is this sort of atmosphere that Dr. Stephen Caye and our staff at Premier Dental strive to achieve for our patients and fellow residents of the Lee's Summit area. We believe that by building a close relationship based on trust with our patients, we can provide a level of personalized treatment that simply cannot be matched elsewhere.
Cons: Perhaps the only real downside to private dental practices, is that they can be more expensive than the low cost dental centers, and that they may not be compatible with some insurance plans. However, keep in mind that cost will always vary depending on the treatment required, and that many private practices do in fact have multiple financing options.
What's Right for You?
Although there is much to consider when comparing between a local dentist with a privately owned dental practice and a corporately owned dental clinic, keep in mind that there is no wrong answer. After all, the decision ultimately comes down to you, and what you feel is best and that you and your family receive the quality dental care necessary.
Meet Your Local Dentist, Dr. Stephan Caye of Premier Dentistry
Dr. Stephan Caye was born and raised in southeast Lee's Summit, MO. After graduating from Lee's Summit High School, he used his Board of Governor's academic scholarship to attain a Bachelor's of Science in Cell and Molecular Biology from Missouri State University.
After his undergraduate studies, he received his Doctor of Dental Surgery Degree at UMKC's School of Dentistry with an emphasis on cosmetic dentistry and endodontics. He takes great pride in returning to his hometown and helping his community.
Dr. Caye enjoys spending time with his growing family. He has been happily married since 2010 to his wife, Sarah. They met in Springfield while both were attending Missouri State University. Their family is now complete with two young boys. Dr. Caye enjoys spending time at the lake with his family.
He also enjoys playing soccer and golf with his father and older brother. He is an all-around Kansas City sports fan with his favorite professional teams being the Chiefs, Royals, and Sporting Kansas City. A fun fact about Dr. Caye is that his French heritage led him to propose to his wife on the Eiffel Tower while vacationing in Paris.
Related Article: Welcome to Premier Dental: Your Dentist in Lee's Summit
If you feel that Premier Dental may be the right choice for you, or have any questions about our services, please let us know! We look forward to meeting you and helping you find a local dentist in the Lee's Summit area.
Dr. Stephan Caye and his friendly, experienced team at Premier Dental offer affordable family dentistry and gentle dental care in the Lee's Summit, MO area. Our office is conveniently located off of Highway 50 and SE Blue Parkway. We offer appointment times Monday through Friday to meet your needs. At Premier Dental, we provide most dental services, from family and general dentistry to specialty procedures, including dental implants, dentures, endodontic or root canal treatment, teeth whitening, cosmetic dentistry, emergency dental care and much more. We accept most dental insurance plans and offer affordable financial solutions for any budget. Please call us at (816) 600-6330 to schedule an appointment.