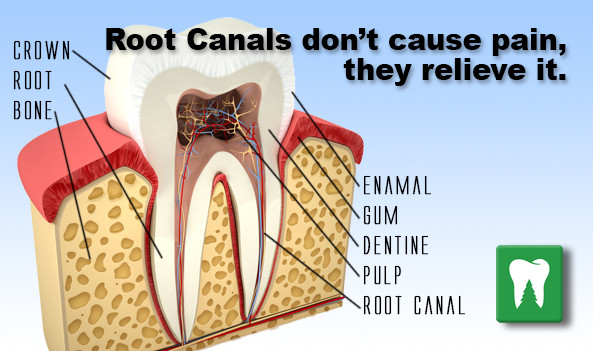 Root canals happen often. Chances are, you'll experience a root canal or two in your lifetime. Thankfully, according to WebMD, root canal procedures have over a 95% success rate. This means that you can breathe a sigh of relief if your dentist brings up the often-dreaded words, "root canal." In all actuality, root canals are meant to help you avoid pain, and put a stop to any oral pain you're experiencing. So, typically you should not experience pain after root canal procedure.
What is a Root Canal?
Root canals are performed by professionals to help repair and save teeth that are infected or decayed. This avoids further infection, decay, and abscesses. This is done by removing the infected pulp and cleaning the tooth and then sealing it. This means that your tooth will now heal, and all invasive bacteria is cleaned out.
All About Root Canals: https://www.webmd.com/oral-health/guide/dental-root-canals#5
Pain After Procedure?
During a root canal, your dentist will apply a local anesthetic. This helps drastically minimize pain – making root canals way less scary than they used to be without anesthetic.
So, after all that cleaning and anesthetic, will your pain after root canal procedure be completely gone? The answer is typically, YES! The main source of your pain – your infected tooth – is now fixed and the intense pain you were experiencing is gone. Sweet relief!
However, like with any dental procedure, some mild discomfort or sensitivity can happen once the pain reliever wears off. Thankfully, over the counter medicines like Advil will get rid of any lasting pain after root canal procedure. After a few hours or a few days at most, all residual sensitivity should be completely gone.
According to Healthline, it's expected to resume normal activities after a root canal, though you might want to avoid hard foods right after your root canal procedure. Healthline suggests trying out yoga and meditation as a way to get your mind relaxed and not focusing on any lasting sensitivity. After learning that, I think I'll indulge in some tai chi and a hot bath after every dentist visit.
Root Canals and Abnormal Pain: https://www.medicalnewstoday.com/articles/320978.php
Still, anomalies happen, and, even though prolonged pain after root canal procedure is very rare, it can sometimes happen if further treatment is needed. Therefore, if you experience any sensitivity lasting longer than a few days after your procedure, give your dentist a call to fix the issue.
Related Article: Why You Still May Have Tooth Pain After Root Canal
For your root canal questions, give us a call at Premier Dental. We are experts in root canal procedures and can't wait to help alleviate your pain.
Dr. Stephan Caye and his friendly, experienced team at Premier Dental offer affordable family dentistry and gentle dental care in the Lee's Summit, MO area. Our office is conveniently located off of Highway 50 and SE Blue Parkway. We offer appointment times Monday through Friday to meet your needs. At Premier Dental, we provide most dental health services, from family and general dentistry to specialty procedures, including dental implants, dentures, endodontic or root canal treatment, teeth whitening, cosmetic dentistry, emergency dental care and much more. We accept most dental insurance plans and offer affordable financial solutions for any budget. Please call us at (816) 600-6330 to schedule an appointment.