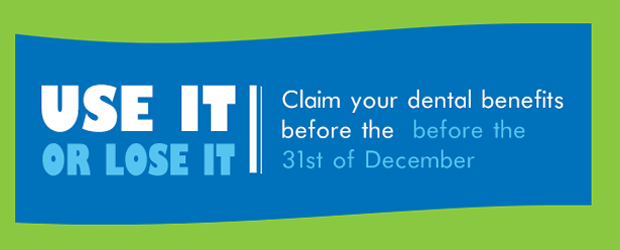 It's here again – the holiday season is upon us. With trick-or-treating, turkey and football, and a big Christmas tree in our near futures, thinking about going to the dentist can fall to the back of our brains. It's so easy to do, so we're here to remind you today about the importance of getting the most out of the dental insurance you pay for. When end-of-the-year rolls around, it's imperative to use your dental benefits and get your appointments scheduled to see your dentist.
Use it or Lose it … check out these tips to maximize your dental insurance benefits and flexible spending accounts HERE.
Save Money, Make Appointments
Did you know you can save possibly thousands of dollars if you use your dental benefits before the end of the year? Dental insurance deductibles are often met, annual maximums won't roll over, and next year's premiums may increase. So, it's time to start thinking about what dental services you and your family may need and want.
If you need larger dental treatments and you've met your deductible, the end of the year is the perfect time to get these treatments completed! Once you reach your deductible, out-of-pocket expenses drop dramatically, so treatments are easier to get done and less expensive for your wallet.
If you're getting close to reaching your annual maximum, talk with us at Premier Dental and we can help create a plan to split treatments between year to year, if needed. We love to work with you and your insurance to create the perfect plan for your treatments to get you the treatments you need and the services you want!
Related Article: Children's Dental Health is Important at Premier Dental
Appointment Types – Preventative and Elective Services
Appointments can often be categorized into two groupings – preventative and elective services.
Preventative services: Preventative dentistry is all about maintaining oral care and preventing oral health problems down the line. This often includes regular cleanings, regular oral exams, and routine x-rays. Dental insurance plans often fully cover preventative care services and appointments. You can also help maintain your oral health at home by brushing twice a day and flossing once a day.
Related Article: Who Benefits from Preventative Dentistry?
Elective services: Elective dental services often fall under the cosmetic category. They are services you often elect to have done, rather than routine services or preventative services that maintain oral health. Veneers, teeth-whitening, and other smile-enhancing services are often elective services, and insurance coverage may vary between each provider. Check with your insurance provider to see what elective coverage you have and schedule these big appointments at the end of the year! Learn more about Cosmetic Dentistry Trends and Options HERE.
Click HERE to learn more about the Dental Services offered at Premier Dental in Lee's Summit.
Premier Dental Can Help You Use Your Dental Benefits
Check over your insurance plan to learn if your insurance covers multiple cleanings every year. If so, make the most of your dental insurance — use your dental benefits — by getting your cleaning in before the holiday-craziness begins and schedules tighten. Also, if you have questions for your dentist or you're curious about the status of your oral health, a routine check-up is the perfect way to learn about your teeth's health and ask questions.
Dr. Stephan Caye and his friendly, experienced team at Premier Dental offer affordable family dentistry and invisible braces in the Lee's Summit, MO area. Our office is conveniently located off of Highway 50 and SE Blue Parkway. We offer appointment times Monday through Friday to meet your needs. At Premier Dental, we provide most dental health services, from family and general dentistry to specialty procedures, including tooth replacement options, such as dental implants and dentures, endodontic or root canal treatment, teeth whitening, cosmetic dentistry, emergency dental care and much more. We accept most dental insurance plans and offer affordable financial solutions for any budget. Please call us at (816) 600-6330 to schedule an appointment.