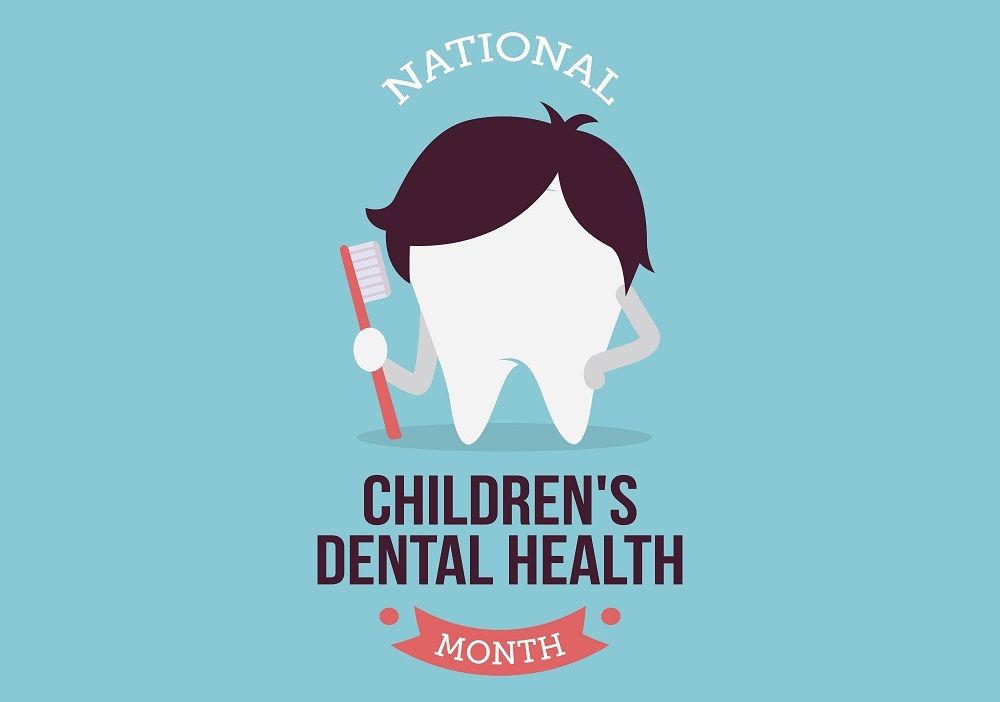 We're SMILING because February is National Childrens Dental Health Month and we LOVE our Little Patients!! When you have small kiddos, like we do, it can be overwhelming to make sure you're doing "all the things" to keep these tiny humans healthy and happy! To take some of the guess work out of this subject, we're going to focus this blog on some questions about childrens dental health that we, as dental professionals AND parents, can answer.
First, let's explain what National Childrens Dental Health Month is … it was introduced in the month of February by the American Dental Association as an observance to bring together thousands of dedicated dental professionals, healthcare providers, and educators to promote the benefits of good oral health to children, their parents, caregivers, teachers and many others.
For us, it's a great opportunity to promote the benefits of childrens dental health, because developing healthy dental habits at an early age, including brushing and scheduling regular dental visits, helps children get a good start on a lifetime of healthy teeth and gums.
We want our patients to have beautiful, healthy smiles and we love to help educate families about their dental health, so let's get started!
Q. Why is childrens dental health important?
A. Helping children develop healthy habits to care for their teeth while they're young is important. These habits can set the stage for good oral health care throughout their entire lifetime. They can avoid many of the problems that result from poor oral health, including gum disease, cavities, and tooth decay.
Related Article: Baby Teeth: Are they important and how do I take care of them?
Q. What is poor oral hygiene?
A. The cause of poor oral hygiene is usually the patient's failure to maintain good oral hygiene habits, such as regular brushing and flossing to remove plaque and tartar from the teeth. Some foods (sugars and acidic foods) and habits (such as smoking) can also result in poor oral hygiene and dental diseases.
Q. What is the number one childhood disease?
A. Tooth Decay. According to the American Academy of Pediatric Dentistry, tooth decay is the most common chronic childhood disease.
Related Article: Tooth Decay: Don't be a Statistic
Q. How many kids have tooth decay?
A. 42% of children ages 2 to 11 have had dental caries or cavities in their primary or baby teeth.
Q. Why do children's teeth decay?
A. Tooth decay, at any age, is caused by bacteria in the mouth. These bacteria make a sticky substance called plaque that can eat away at a tooth's enamel. Poor oral hygiene can raise your child's risk for tooth decay. Dr. Caye can diagnose tooth decay with an exam and X-rays.
Q. What will a dentist do for toddler tooth decay?
A. Dr. Caye can remove decayed parts of the tooth and perform either a dental filling or a dental crown to fill holes in the tooth.
Q. How can children's poor dental care affect their overall health?
A. A number of conditions or diseases share a link with poor oral health, including:
Difficulty sleeping: Infants and children with chronic dental pain may have difficulty sleeping.
Impaired speech: Early tooth loss caused by advanced tooth decay can lead to impaired speech development.
Poor educational performance: Chronic dental pain can lead to school absences, the inability to concentrate on important early learning experiences, and difficulty completing homework.
Poor diet: Children without a proper diet can lack the nutrients they need for a healthy mouth. As a result, oral disease may lead to difficulty chewing, which in turn leads to a more modified diet that lacks proper nutrition.
Reduced self-esteem: Children with oral disease may be reluctant to smile due to embarrassment about the appearance of their teeth or missing teeth.
Diabetes:Diabetics are already at increased risk of developing gum disease because diabetes reduces the body's resistance to infection. Research shows that people who have gum disease have a harder time controlling their blood sugar levels.
Cardiovascular disease:Some research suggests that heart disease, clogged arteries and strokes might be linked to oral inflammation and infections caused by out of control bacteria (gingivitis). The inflammation helps develop plaques in the arteries, possibly increasing the chances for a stroke or heart attack.
Pregnancy and birth: Periodontitis, a serious gum disease, has been linked to premature birth and low birth weight. The National Institute of Dental and Craniofacial Research, in fact, estimates that as many as 18 percent of preterm, low birth weight babies born in the United States each year may be attributed to oral infections. The reason is that oral bacteria release toxins, which reach the placenta through the mother's bloodstream. Additionally, the oral infection causes the mother to produce labor-triggering substances at an abnormal rate.
Related Article: Oral Health Problems and Overall Health: How Connected are They?
Q. How can we avoid cavities?
A. Here are 3 simple suggestions to keep cavities away:
Start good oral habits early. Teach kids to brush at least twice a day with fluoride toothpaste and to floss regularly.
Get enough fluoride. Regular use of fluoride toughens the enamel, making it harder for acid to penetrate.
Limit or avoid sugary drinks and snacks.
 Remember these Simple Tips for Brushing:
Learn by example: Children emulate their parents. Brush with your children and they will want to be just like you.
Don't skip: Making it a habit requires sticking to the schedule. Even if the child is tired, reinforcing the importance of brushing is important.
Make it fun: Songs that last 2 minutes will help. Reading to your child while they brush may help, too. Even a puppet brushing his teeth can be motivating.
Trial and error: Try different kinds of toothpaste until you find the one your kiddo likes. Try using the smallest amount he will allow and working your way up to the recommended amount. Even a tiny amount is better than no toothpaste.
Don't give up: Childrens dental health is your main goal. Just remember, the pain of cavities and lifelong dental issues is more costly and damaging than the dealing with these few moments of nagging battles twice a day.
Q. How often do I need to take my child to see the dentist?
A. Childrens dental health requires regular visits to the dentist to keep their teeth and mouth healthy. If children have regular dental visits, Dr. Caye and his dental team at Premier Dental can take care of their teeth and find oral health problems early. Having regular dental visits also teaches kiddos to value good oral health.
Q. What will happen at my child's dental exam?
A. During a dental exam:
Check your child's teeth and mouth.
Talk to you and your child about the best way to take care of their teeth. For example, brushing your child's teeth with fluoride toothpaste after breakfast and before bed.
Share other ways to help prevent tooth decay (cavities). For example, putting fluoride varnish on children's teeth.
Q. How can I get my child ready for their visit to the dentist?
A. Here are some tips to prep your kiddo for their first trip to the dentist:
Set up a pretend dental chair. Pretend to be the dentist or dental hygienist. Look in your child's mouth and count her teeth; then talk to her about brushing her teeth.
Read books or watch videos with your child about visiting the dentist.
Let your child bring his favorite toy or blanket to the clinic.
If you find out that your child will receive a small toy or new toothbrush at the end of the visit, remind your child of this reward.
Plan a fun activity for after their dental appointment.
Premier Dental offers Family Dentistry
As you can see, education on childrens dental health is important to us and Dr. Caye and his caring team of dental professionals work hard to make every dental appointment an enjoyable experience. We want all of our patients to feel comfortable visiting our office and confident that our team will help guide you and your family through a lifetime of beautiful, healthy smiles.
Dr. Stephan Caye and his friendly, experienced team at Premier Dental offer affordable family dentistry and gentle dental care in the Lee's Summit, MO area. Our office is conveniently located off of Highway 50 and SE Blue Parkway. We offer appointment times Monday through Friday to meet your needs. At Premier Dental, we provide most dental health services, from family and general dentistry to specialty procedures, including dental implants, dentures, endodontic or root canal therapy, teeth whitening, cosmetic dentistry, emergency dental care and much more. We accept most dental insurance plans and offer affordable financial solutions for any budget. Please call us at (816) 600-6330 to schedule an appointment.