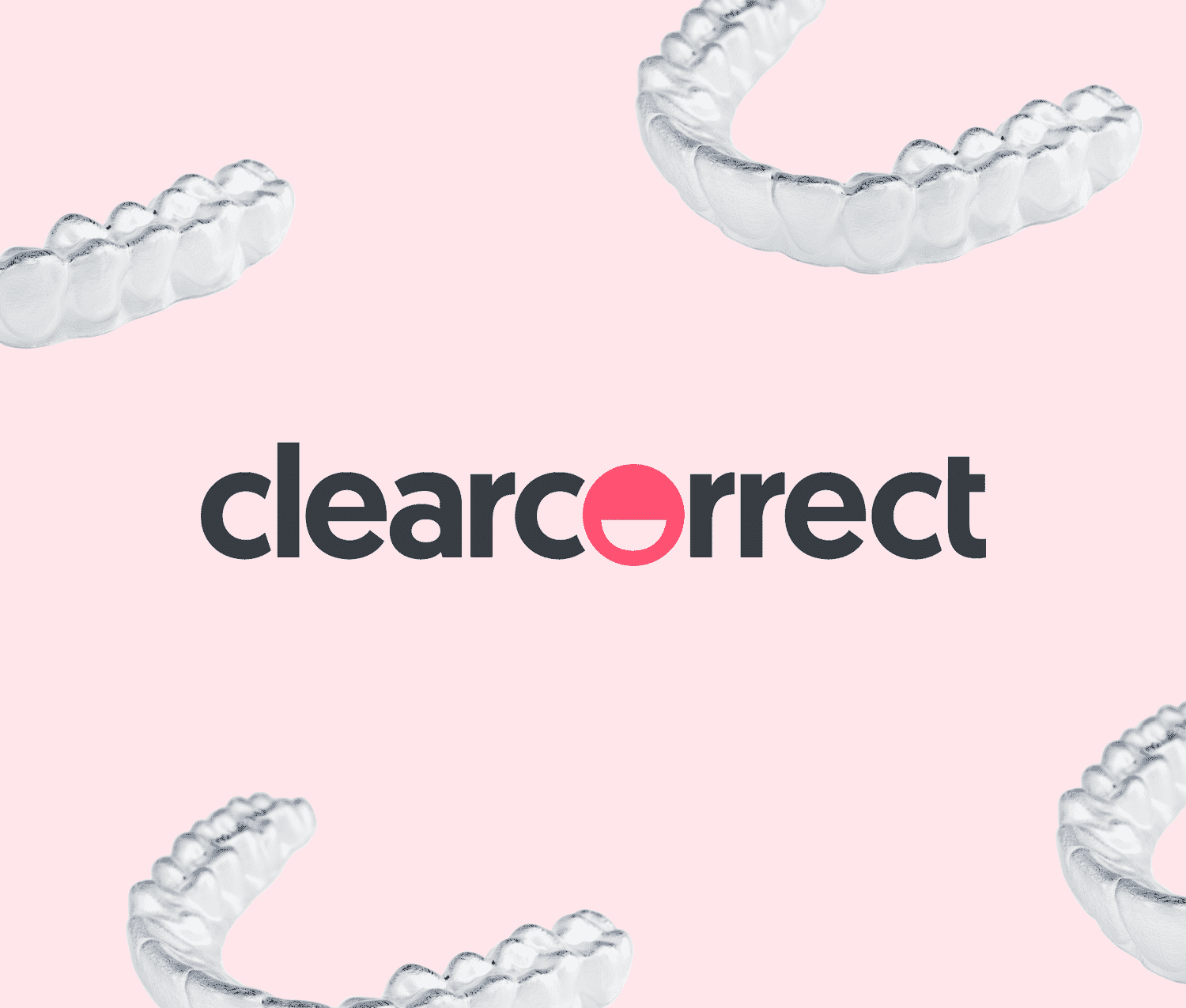 What if I told you that you could achieve a straighter smile with comfort, discreetness, and ease? Although it probably sounds too good to be true, ClearCorrect invisible aligners are all that and a bag of chips! ClearCorrect aligners live up to their claims of comfort, ease, and invisibility by using new, advanced dental technology that can straighten your teeth without the discomfort and look of traditional braces. If you've ever considered orthodontic treatment for your smile, now is the time to try our ClearCorrect aligners.
Learn More: Hey! We're ClearCorrect! Nice to Meet YOU!
What Is Clear Aligner Therapy?
Basically, clear aligner therapy is a series of clear dental appliances that are formed to a patient's shape/size of teeth. They gradually improve the alignment and appearance of your teeth by applying gentle pressure. Clear aligner therapy is becoming more and more popular as more patients discover the great results and ease of use. However, it's important to know that not all clear aligners are the same quality.
Learn More about our Cosmetic Treatment Options in Lee's Summit  
The ClearCorrect Difference
You may have heard or seen commercials that are advertising cheaper, mail-order alternatives to ClearCorrect. While the idea may sound good in theory, it's important to know the real difference between ClearCorrect and any mail-order options.
With ClearCorrect aligners, you get the major advantage of professional monitoring by the Team at Premier Dental. Mail-order aligners cannot offer real life dental care like Dr. Caye can. The process for ClearCorrect aligners begins with a consultation by Dr. Caye to determine if you are a good candidate. If so, the doctor scans the area of your chief complaint, to accurately measure current position of your teeth. This data is then analyzed and sent to ClearCorrect to begin fabrication of a treatment plan and a starter kit.
Related Article: ClearCorrect Clear Aligners for a Straight Smile
Know the Risks and Rewards
Alternative, mail-order alternatives cannot claim a dentist-approved stamp behind their process. Due to this, many patients using these systems are having to meet with their dentists to achieve the results they want.
Many dentists are having to correct and fix new and original issues left behind due to mail-order alignment systems. That's why you always want to know your dentist is backing and monitoring your clear aligner therapy and treatment with ClearCorrect aligners. That way, you'll always get the professional results you're hoping for. This is because Dr. Caye will take accurate impressions of your teeth and send them off to the ClearCorrect laboratory, where an exact 3-D model of your teeth will be created. A team of experts will then map out a completely customized treatment plan using digital mapping and molding technology.
ClearCorrect aligners are:
Removable
Discreet
Comfortable
Dentist-approved
Provide no dietary restrictions
Have no obstructions to brushing or flossing
Invisible Braces: ClearCorrect Has Many Benefits
You can wear ClearCorrect aligners at any time, except when you're eating and drinking. Aside from obvious aesthetic benefits where people will barely notice you have them in, you won't have to worry about wires or brackets accompanying them.
With ClearCorrect, clear aligner therapy, you can treat various issues such as:
crowded teeth
crooked overbites
underbites
spaces between teeth
Furthermore, ClearCorrect is irritation free with little discomfort in the adjustment periods while wearing them. It is encouraged that you wear them 22 hours per day as you progress through treatment.
Related Article: I Want Invisible Braces, ClearCorrect is the Solution
Straighter Teeth Encourage Better Hygiene
In addition to the aesthetic advantages, straighter teeth offer, they also provide a better environment for a healthier mouth. With straight teeth, keeping them clean is an easier task as it is much easier to brush and floss in between them.  This advantage eliminates the possibility of greater plaque buildup, and cavities as toothbrushes and floss can access crevices effectively.
To Book, a Consultation Contact Our Team
At Premier Dental, Dr. Caye and his team are committed to providing patients with the utmost comfort and care while keeping you and your family's teeth healthy and beautiful. If you are interested in improving your smile, consider invisible braces. Book a free consultation with Dr.Caye and see how we can help to enhance your smile with ClearCorrect clear aligner therapy.
Related Article: Dr. Stephan Caye, DDS: Your Local Dentist in Lee's Summit, MO
Dr. Stephan Caye and his friendly, experienced team at Premier Dental offer affordable family dentistry and invisible braces in the Lee's Summit, MO area. Our office is conveniently located off of Highway 50 and SE Blue Parkway. We offer appointment times Monday through Friday to meet your needs. At Premier Dental, we provide most dental health services, from family and general dentistry to specialty procedures, including tooth replacement options, such as dental implants and dentures, endodontic or root canal treatment, teeth whitening, cosmetic dentistry, emergency dental care and much more. We accept most dental insurance plans and offer affordable financial solutions for any budget. Please call us at (816) 600-6330 to schedule an appointment.