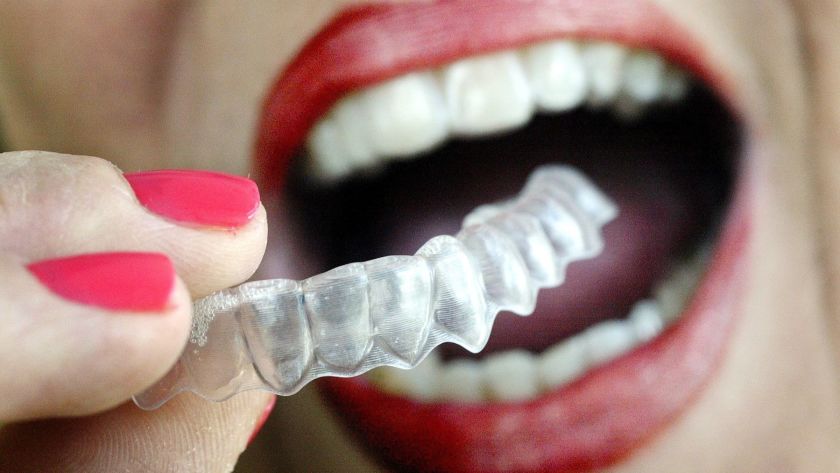 Are you ready to straighten your smile? Do you have an overbite or underbite? Would you like to fix the space between your teeth or are they too crowded? ClearCorrect clear aligners could be a perfect fit!
Gone are the days when you had to endure metal braces for several years to make these smile corrections.
ClearCorrect, a clear aligner system used to straighten teeth as an alternative to traditional braces, with a series of clear, custom-made, removable aligners that gradually move teeth a little bit at a time to eventually correct the teeth.
Customized for You by Your Dentist
Your dentist will send impressions, photographs and radiographs with a prescription for your custom-made aligners to the ClearCorrect laboratory. An exact 3-D model of your teeth is created and your treatment team will map out a complete treatment plan for you that will show the gradual realignment that will reposition your teeth from their current position to where your dentist wants them to be.
You'll receive what they call a "treatment set-up" – a computerized representation of your teeth both before AND after your treatment – for you to review and approve or request any adjustments. Your custom aligners will then be created with computer precision using digital mapping and molding technology.
How Do ClearCorrect Clear Aligners Work?
ClearCorrect involves four phases and each phase requires a new set of aligners that will be worn for  approximately three weeks. Except while you're eating, drinking, brushing or flossing you'll wear your ClearCorrect clear aligners all the time. Your aligners are barely noticeable and won't get in your way during your busy day.
You'll start to see noticeable results after wearing each aligner set as your teeth begin to slowly adjust and align to the smile of your dreams. You'll check in periodically with your dentist so your progress can be evaluated, then you'll be given your next set of aligners. This sequence will continue  for one to two years until you have achieved your desired results, depending on your specific degree of misalignment.
There are three treatment options offered by ClearCorrect; however, you'll need to schedule a consultation with a dentist that provides ClearCorrect in your area. Then your dentist will determine the best treatment option for you, like Dr. Stephan Caye at Premier Dental in Lee's Summit, MO.
Is ClearCorrect a Treatment Option for You?
Both teens and adults can benefit from ClearCorrect and can be used to treat the following conditions:
Spacing between teeth
Crowded teeth
Crooked, rotated or turned teeth
Underbites
Overbites
Why Is it SO Important to Work with a Dentist?
A lot of people want a straighter smile without having to wear braces and over the past ten years, we've seen orthodontic treatment evolve to clear options, including clear braces and clear aligners. It's no surprise that these almost-invisible options are gaining popularity. However, there is a side of this new technology that is causing concern among dentists, orthodontists and the American Dental Association (ADA): Mail Order Aligners.
Have You Hear of Mail Order Aligners?
Some companies have started offering cheaper alternatives through mail order businesses. So, instead of going to the dentist, these companies work directly with the customer. An at-home impression kit is sent to the customer, it's returned to the company by mail, the impressions are reviewed by one of their technicians – often living in a foreign country without any type of dental education or experience – who decides whether or not the person is a candidate for their aligners.
If so, aligners are made (often from significantly cheaper materials) and sent to the patient with instructions to wear them for a certain period of time to correct their teeth. Most times these aligners are less expensive, which is appealing; however, we're hearing from colleagues and the dental industry that many times patients are approved for these mail-order aligners that should not be candidates due to dental decay, gum disease or other conditions. These companies are most interested in making money in an industry that needs to be supervised by a dental professional.
Many of these companies rely on heavy marketing to potential consumers with campaigns designed to make you think their customers are satisfied with their results. In reality, there are hundreds of active lawsuits agains these mail-order aligner companies. However, because of the success of these companies, many other mail-order companies are getting into the mail-order aligner business.
Remember the analogy, "You get what you pay for"? Bingo! As a consumer, please beware, as any "do it yourself" orthodontic option can be risky and is more likely to leave you less than satisfied with your smile and possibly with more problems than when you started.
Here are a few problems with mail-order aligner options:
No Comprehensive Dental Exam Before Treatment
There's No Supervision During Your Treatment
You Risk Your Teeth Being Worse Than Before Your Treatment
Ask us how we can improve your smile by scheduling a free consult with Dr. Caye today.
Read about how a straight smile can restore confidence, here. Give us a call and ask how we can effortlessly improve your smile with the help of ClearCorrect clear aligners. If you're looking for invisible braces to brighten your smile and correct your teeth without hassle, Premier Dental can help you find out the best option. Visit Dr. Stephan Caye, DDS: Your Local Dentist in Lee's Summit, MO for more details on one of the best orthodontic specialists in the Lee's Summit area.
Learn more about ClearCorrect Clear Aligners: https://www.yourdentistryguide.com/clearcorrect/
Dr. Stephan Caye and his friendly, experienced team at Premier Dental offer affordable family dentistry and invisible braces in the Lee's Summit, MO area. Our office is conveniently located off of Highway 50 and SE Blue Parkway. We offer appointment times Monday through Friday to meet your needs. At Premier Dental, we provide most dental health services, from family and general dentistry to specialty procedures, including tooth replacement options, such as dental implants and dentures, endodontic or root canal treatment, teeth whitening, cosmetic dentistry, emergency dental care and much more. We accept most dental insurance plans and offer affordable financial solutions for any budget. Please call us at (816) 600-6330 to schedule an appointment.