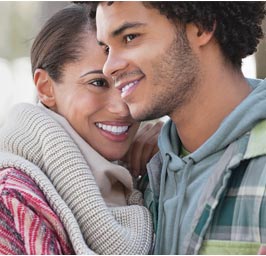 Do You Want a Whiter Smile?
It's no secret that one of the effects of aging and a lifestyle that includes things like tea, coffee or smoking is stained teeth. It's also not a secret that most people would prefer to keep their smiles whiter than they are, but don't often have a lot of success. There are countless over the counter products available at your local pharmacy or grocery store, home remedies that promise to lighten your teeth a few shades and expensive dental procedures, but people want teeth whitening services that are both affordable and effective.
Teeth Whitening Services: Benefits of a Whiter Smile
Having a whiter, brighter smile offers a range of benefits, and you never really know when it could change your life. For most people, a whiter smile will improve your social life, boost self-esteem and may even give you an edge professionally. Having white teeth will encourage you to smile more often, helping to improve your mood. It can also help you make a good first impression and be more outgoing overall. Greater self-confidence can open doors you didn't even know were there.
What are You Missing Out On?
Imagine this scenario; your teeth aren't as white as you'd like and you're self-conscious about it. You encounter someone you would like to get to know better but they mistake your shyness about your teeth for indifference, and nothing comes of it. You could have let your future husband or wife just walk away because you were embarrassed about your teeth, and the story isn't even that far-fetched. It may have even happened to you already and you don't even know it! The same could be true for professional situations.
Teeth Whitening Services: The Venus Smile Difference
Luckily, Venus Smile carries several products that will help you to look your best by brightening your smile, and possibly even change your life. Whether it's in-office treatment, or personal treatment you can do at home, Venus Smile can make a big difference. Some of the teeth whitening solutions they offer include:
Venus White Ultra – this is an at-home, once a day treatment using pre-filled, disposable whitening trays.
Venus Pro – this is a take-home treatment consisting of custom whitening trays designed specifically for you. There are three strengths available to meet your specific whitening needs.
Venus Max – this is an in-office teeth whitening service performed by a dental professional that offers the most immediate results.
Venus White Touch Up Brush – a convenient brush that you can use anywhere to touch up any areas that could use it and maintain the results from your teeth whitening service.
Related Article: Teeth Whitening Services: A Smile is Worth a Thousand Words
If you'd like to learn more about the Venus Teeth Whitening System, or have any questions about our teeth whitening services or your oral health, get in touch with Dr. Caye at Premier Dental in Lee's Summit today.
Related Article: Dr. Stephan Caye, DDS: Your Local Dentist in Lee's Summit, MO
Dr. Stephan Caye and his friendly, experienced team at Premier Dental offer affordable family dentistry and teeth whitening services in the Lee's Summit, MO area. Our office is conveniently located off of Highway 50 and SE Blue Parkway. We offer appointment times Monday through Friday to meet your needs. At Premier Dental, we provide most dental health services, from family and general dentistry to specialty procedures, including tooth replacement options, such as dental implants and dentures, endodontic or root canal treatment, teeth whitening, cosmetic dentistry, emergency dental care and much more. We accept most dental insurance plans and offer affordable financial solutions for any budget. Please call us at (816) 600-6330 to schedule an appointment.