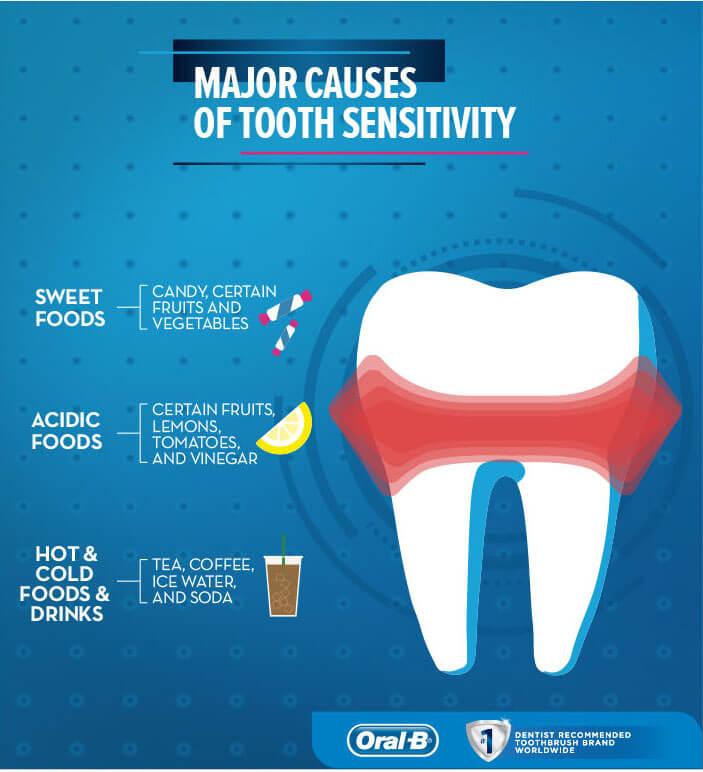 Having sensitive teeth can be very uncomfortable. It affects how people chew, eat, drink, or perform any action with the mouth. For many individuals, sensitive teeth cause severe pain and leave them incapable of enjoying daily life.
In most situations, temporary pain is caused by weakened tooth enamel, a visible tooth root, or even a chipped tooth. Overall, many causes can lead to sensitive teeth, but there are things you can try to counteract its effects.
What Causes Sensitive Teeth?
Whether you are breathing in cool air, eating, or drinking, your sensitive teeth can cause you pain. The underlying reason for your sensitive teeth might be one of the following:
Worn-down enamel – The vulnerable tissues inside your teeth are exposed when this protective layer erodes.
An abrasive toothbrush – Brushing too harshly or consuming acidic foods are typical causes of eroded enamel.
Chipped, cracked, or fractured teeth – If the nerve or root is exposed, you will experience pain. Compromised teeth allow debris, bacteria, and unwanted elements to enter the tooth, causing an infection and sensitivity.
Periodontal disease – This oral ailment often causes gums to retract exposing dentin, a dense tissue that contains very small tubes that connect to the pulp of the teeth. When elements enter these microscopic tubules, you will experience severe pain and discomfort.
What Can Be Done to Eliminate Pain?  
If you're experiencing pain due to your sensitive teeth, you can try some relief strategies at home. Note that these suggestions will only work if an infection is not the root cause.
At home-treatments include:
Using a desensitizing toothpaste
Brushing gently with a soft-bristled toothbrush
Avoiding highly acidic foods and beverages such as soda, coffee, and citrus fruits
Using a mouthwash containing fluoride
Placing a cold compression on the affected area
For those with severe tooth infections, professional intervention may be required to remedy the pain.
A restorative procedure such as a root canal might be needed if the inner pulp of the tooth is diseased. Other options such as dental crowns may also be necessary, in addition to the root canal, depending on the level of tooth decay.
Professional cleanings and dental evaluations are also necessary to maintain oral health and limit the damage caused by gum disease.
Related Article: The Appointment of a 6-Month Dental Appointment
Premier Dental Can Help with Sensitive Teeth
For those seeking a dentist in the Lee's Summit area, reach out to the experts at Premier Dental. At our office, we pride ourselves on offering exceptional care and adhering to the needs of our patients.
If you are suffering from sensitive teeth, allow us to help you. Our years of experience, extensive knowledge, and abundance of services enable us to help patients with tooth sensitivity and a variety of other conditions. Contact us today!
Dr. Stephan Caye and his friendly, experienced team at Premier Dental offer affordable family dentistry and tooth replacement options in the Lee's Summit, MO area. Our office is conveniently located off of Highway 50 and SE Blue Parkway. We offer appointment times Monday through Friday to meet your needs. At Premier Dental, we provide most dental health services, from family and general dentistry to specialty procedures, including endodontic or root canal treatment, teeth whitening, cosmetic dentistry, emergency dental care and much more. We accept most dental insurance plans and offer affordable financial solutions for any budget. Please call us at (816) 600-6330 to schedule an appointment.