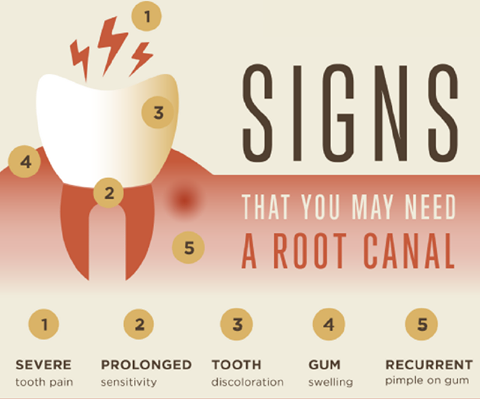 It can be painful. At first, it might leave you feeling as if someone punched you in the mouth. But a root canal procedure is often necessary for knocking out the decay and saving your damaged tooth. Detecting these root canal symptoms help make such a procedure more straightforward and preserves your teeth for the long haul.
A Root Canal Has Multiple Meanings
Whenever you hear the term "root canal" you often think of the procedure used to treat a seriously infected tooth. However, "root canal" is also the term used to describe the inner tooth. Located between its roots and the pulp, the root canal is the center part of the tooth consisting of connective tissues and cells. Your root canal also has blood vessels. These vessels deliver important nutrients to teeth and nerves identifying with extenuating factors such as heat, cold, and pressure.
A root canal infection can be caused by dental decay penetrating the pulp as well as a cracked or damaged tooth, which allows bacteria to seep in. It can also be triggered by repeated dental treatment on the same tooth, among other issues.
Root Canal Symptoms You Can Notice
There are root canal symptoms that you can identify right away or over time. You won't be able to fully determine whether a root canal procedure is necessary. But these symptoms make it more evident what needs to be done during future visits to your dentist.
Pain is an obvious symptom. Or such is the thinking at first. If you have a nagging or spontaneous toothache, pain caused by tapping or eating a hot meal right after tasting something cold, there's every chance you have an infection. However, you might find that the tooth in question that needs to be treated doesn't hurt all when examined by your dentist.
Swelling and gum tenderness are also common root canal symptoms that you will notice. If there is a gum boil on the tip of the root or swelling on the front of the root tip, you have a problem that requires immediate treatment. Should you have bad breath resulting from pus coming from the root canal that is another indicator you need a procedure.
Furthermore, if you feel ill due to a fever or uneasiness that is accompanied by one of these symptoms, consult an oral healthcare professional right away.
Root Canal Symptoms Only Your Dentist Will Notice
Some root canal symptoms are not as obvious and need thorough examinations. Dentists use X-rays, cavity tests, selective anesthesia and other means to determine the extent of damage done.
Dentists will notice things such as a discolored tooth, which causes nerve issues. Discoloration happens due to tooth trauma but doesn't always come with swelling or toothaches. If your dentist makes contact with the pulp tissue while treating your compromised tooth, your nerve can be exposed, which could lead to tissue degeneration.
Gum boils, or fistulous tracts are pus drains that allow pus to penetrate soft tissues, causing swelling. Such boils can be caused by gum disease.
Identifying these symptoms in the soonest possible time can make a seemingly excruciating procedure become seamless. With Root Canal Awareness Week taking place from March 30 until April 5, you will be able to educate yourself further on these symptoms and available treatment options. Just in time for spring too!
If you're worried that you might have some of these root canal symptoms, contact Premier Dental and book an appointment today. Click Here to learn more about Premier Dental and Dr. Stephan Caye.
Dr. Stephan Caye and his friendly, experienced team at Premier Dental offer affordable family dentistry and gentle dental care in the Lee's Summit, MO area. Our office is conveniently located off of Highway 50 and SE Blue Parkway. We offer appointment times Monday through Friday to meet your needs. At Premier Dental, we provide most dental health services, from family and general dentistry to specialty procedures, including dental implants, dentures, endodontic or root canal treatment, teeth whitening, cosmetic dentistry, emergency dental care and much more. We accept most dental insurance plans and offer affordable financial solutions for any budget. Please call us at (816) 600-6330 to schedule an appointment.