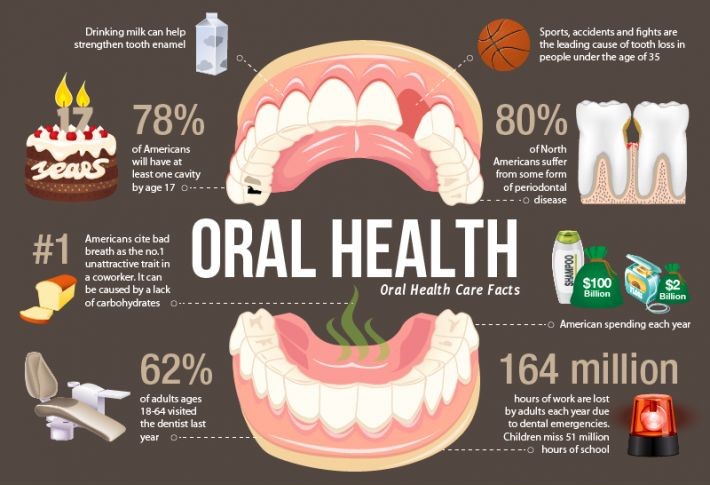 Toothaches, cavities, and other various dental problems can seem to be isolated to just your mouth, but the truth is, your oral health is directly tied to your body's overall health.
When your mouth is happy and healthy, so is the rest of your body. On the flip side, when a dental problem presents itself, it could affect other systems in your body or could be an indicator of further health problems. Let's dive more into the connection between oral health and overall health!
Related Article from the American Dental Association (ADA): The Mouth Is A Window Into The Health of The Body
Dental and Oral Health Signs Can Indicate Overall Health
According to Web MD, a woman visited her dentist to treat her recently broken tooth. When her dentist examined the tooth and the state of her oral health, he noticed multiple red flags. She was suffering from multiple dental issues:
Inflamed gums.
Gum disease.
Multiple chipped/fractured teeth.
Related Article: Oral Health Problems and Overall Health: How Connected Are They?
These were major warning signs of a deeper health problem, not just a simple broken tooth. Her dentist recommended she get in touch with her primary care doctor ASAP and she was diagnosed with high blood pressure and anemia and at high risk for a heart attack. This is a perfect example of how oral health and overall health are synonymous.
Researchers are sure of the link between gum disease and:
Heart disease.
Diabetes.
Rheumatoid arthritis.
Osteoporosis.
Increased heart attack risk (two-fold).
Increased stroke risk (three-fold).
Read More About This Story: https://www.webmd.com/oral-health/features/oral-health-affects-wellness
Keeping Up with Dental Health
Knowing that link between gum disease and major health issues exists can be quite nerve wracking to learn, however, proper dental care and regular cleanings with your dentist are a great line of defense against these issues. To avoid these risks and diseases, make sure to consult and visit your dentist often. Dentists are usually the first line of defense and can recognize any warning signs and help you on the road to recovery.
Along with your dentist, you can be aware of the warning signs of bad oral health:
Sensitive, inflamed, or bleeding gums.
Constant bad breath.
Pus by teeth or gums.
Feeling of loose teeth.
Using tobacco products can also greatly increase the risk of gum disease and multiple health problems.
Read More: https://www.ncbi.nlm.nih.gov/books/NBK219661/
Dr. Stephan Caye and his friendly, experienced team at Premier Dental offer affordable family dentistry and invisible braces in the Lee's Summit, MO area. Our office is conveniently located off of Highway 50 and SE Blue Parkway. We offer appointment times Monday through Friday to meet your needs. At Premier Dental, we provide most dental health services, from family and general dentistry to specialty procedures, including tooth replacement options, such as dental implants and dentures, endodontic or root canal treatment, teeth whitening, cosmetic dentistry, emergency dental care and much more. We accept most dental insurance plans and offer affordable financial solutions for any budget. Please call us at (816) 600-6330 to schedule an appointment.