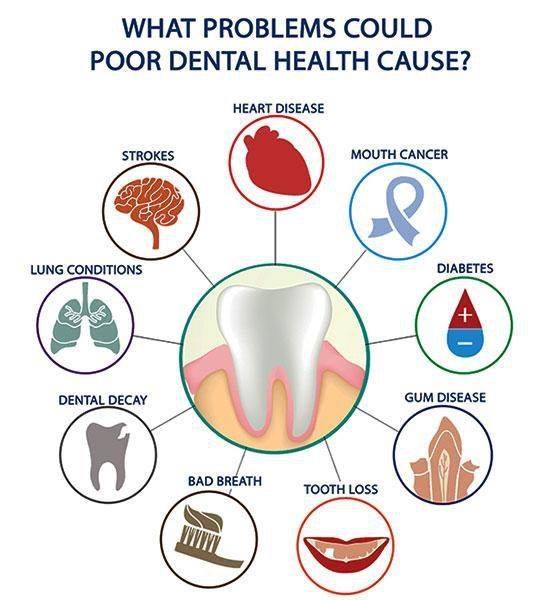 A cavity or a slight pain in your jaw are average oral health difficulties that might seem minimal and low-risk in the present day. But the truth is, your oral health is a window to your overall health – the two are very much interlinked and oral health problems often means poor overall health. Letting oral health issues continue untreated can lead to unwanted, and potentially avoidable health risks and various diseases.
For example, according to the Dental Health Foundation, "A healthy mouth enables not only nutrition of the physical body, but also enhances social interaction and promotes self-esteem and feelings of well-being." Oral health is also a great viewpoint for detecting early signs and symptoms of other diseases. More than 90% of diseases show oral signs and symptoms, according to the Academy of General Dentistry.
Read more at: https://www.dentalhealth.ie/dentalhealth/causes/general.html
Related Article: What's the Connection Between Diabetes and Oral Health?
Oral Health Problems: Look For Signs
Staying up to date on your dental care is priority number one when preventing any oral health issues. However, when you are not at the dentist, you can give yourself your own examinations to check your oral health. Look for common oral symptoms, such as:
Mouth lesions
Pale or bleeding gums
Sensitive or painful jaw
Pain in/around teeth
Each of these symptoms could indicate a potential or existing underlying health issue. Gum disease, or periodontitis, could lead to bacteria forming in your lungs, resulting in a respiratory infection. According to the surgeon general, gum disease can also increase the risk of your first heart attack by 28%.
Discover more about the Surgeon General's report: https://www.nidcr.nih.gov/news-events/2020-surgeon-generals-report-oral-health
Oral Health Problems: Be Proactive
Have the whole family practice good oral health by brushing twice a day with a fluoride toothpaste, as well as flossing daily, and maintaining regular dental checkups. You can also reduce your risk of oral health problems by being knowledgeable about common risk factors for oral and health-related issues, that move beyond just the teeth and gums. Knowing that there are risk factors that effect both your oral and your overall health is a great way to take a broader approach to your healthcare and reduce your risks even more.
Poor diet – leading to cavities, obesity, diabetes, and other diseases.
Smoking/chewing tobacco – leading to cancers, periodontal disease, stroke, and other diseases.
Trauma – leading to dental trauma, such as a broken jaw.
Alcohol – leading to cancer, trauma, liver cirrhosis, and other diseases.
Stress – leading to cardiovascular disease, periodontal disease, and other diseases.
Oral Health Problems: Seek Help from Premier Dental
Taking care of your mouth is not only essential to having a healthy smile, but also is imperative to keeping the rest of your body healthy and disease-free. At Premier Dental, our team is committed to helping patients better their oral health. We aim to improve their dental conditions and make dental care accessible.
Dr. Stephan Caye and his friendly, experienced team at Premier Dental offer affordable family dentistry and gentle dental care in the Lee's Summit, MO area. Our office is conveniently located off of Highway 50 and SE Blue Parkway. We offer appointment times Monday through Friday to meet your needs. At Premier Dental, we provide most dental health services, from family and general dentistry to specialty procedures, including dental implants, dentures, endodontic or root canal treatment, teeth whitening, cosmetic dentistry, emergency dental care and much more. We accept most dental insurance plans and offer affordable financial solutions for any budget. Please call us at (816) 600-6330 to schedule an appointment.