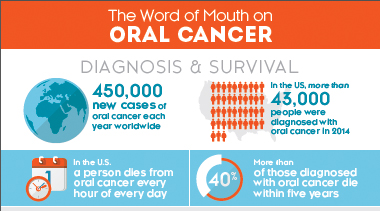 In America alone, almost 50,000 people will be diagnosed with oral cancer each year. Of those people, only a little more than half will be alive five years from now. Because of its far-reaching impact on many families worldwide, April is Oral Cancer Awareness Month.
During this month, oral health professionals and those affected by oral cancer of all types work hard to spread awareness and educate people on the disease, what it looks like, and the preventative steps people can take to protect themselves and their loved ones.
What Is Oral Cancer?
Oral cancer is the commonly used term by oral health professionals when talking about a variety of cancers that affect the oral cavity, including the tongue, lips, and throat. These types of cancer can affect anyone, making it extremely important to regularly complete oral cancer screenings and self-directed examinations of your oral cavity.
What Are the Signs of Oral Cancer?
Oral cancer screenings can help dental professionals identify the telltale signs and early symptoms of oral cancer, such as:
     A chronic sore throat.
     Bleeding in any area of the mouth or lips.
     Irregular areas or patches of the oral cavity or lips that are discolored, bumpy, or rough.
     Any difficulty talking, chewing, swallowing, or moving the jaw.
     A loss of sensation or numbness of the face, neck, mouth, or tongue.
How Does Oral Cancer Develop?
Although there are multiple types of oral cancer, there are two main factors that commonly increase the risk of development: alcohol and tobacco consumption. Both alcohol and tobacco negatively impact human health and regular use has been shown to increase the risk of developing oral cancer.
There are other factors associated with an increased risk of oral cancer, including poor oral hygiene, poor diet, and HIV infection.
Is Oral Cancer Preventable?
Oral cancer is not completely preventable, but there are certain steps that a person can take to lower their risk and identify warning signs in the cancer's early stages. Trusted oral health professionals recommend that you schedule regular oral cancer screenings to keep an eye on your oral health and quickly identify any suspicious changes.
People can also conduct oral inspections on themselves and their loved ones monthly in addition to a complete oral health maintenance regime. If you experience any of the above symptoms and warning signs or notice any sudden changes in your oral health, immediately contact your dentist for a more thorough inspection.
With regular oral cancer screenings and dental check-ups, you can decrease your risk of not catching oral cancer ahead of time. April is Oral Cancer Awareness Month, making it a great time to schedule your next oral cancer screening and check-up at Premier Dental.
Related Article: The Importance of a 6-month Dental Appointment at Premier Dental
Contact us today to book your appointment with our team of friendly oral health professionals.
Dr. Stephan Caye and his friendly, experienced team at Premier Dental offer affordable family dentistry and gentle dental care in the Lee's Summit, MO area. Our office is conveniently located off of Highway 50 and SE Blue Parkway. We offer appointment times Monday through Friday to meet your needs. At Premier Dental, we provide most dental health services, from family and general dentistry to specialty procedures, including dental implants, dentures, endodontic or root canal treatment, teeth whitening, cosmetic dentistry, emergency dental care and much more. We accept most dental insurance plans and offer affordable financial solutions for any budget. Please call us at (816) 600-6330 to schedule an appointment.