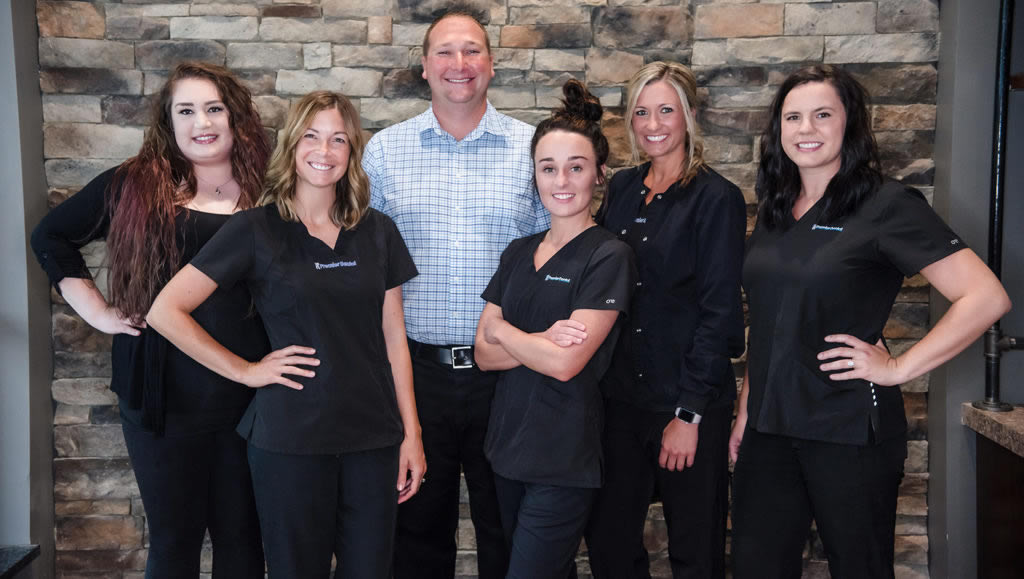 One-Stop Dental Shop
Why do you choose an all-inclusive resort when booking a vacation? It's because they have it all and more. Everything you could possibly need is in one convenient location. But what do all-inclusive resorts and our dental office have in common? They're both one-stop shops with everything you need!
Learn More About Us HERE.
Comprehensive Dentistry
One-stop dental shop is also known as comprehensive dentistry. At Premier Dental, you can receive preventive, cosmetic, and restorative treatments all in one location.
Preventive Dentistry Treatments often include dental cleanings twice a year and the main goal is to prevent any oral health issues from happening. It's so important to see your dentist twice a year so they can assess your oral health and provide you with a professional cleaning.
Cosmetic Dentistry Treatments are all about enhancing the look and feel of your smile. These treatments are great confidence boosters, and often include our ClearCorrect braces, veneers, etc.
Restorative Dentistry Treatments often happen with your oral health needs restored or corrected. Maybe you chipped your tooth, lost a tooth, etc. and may require surgery. Dental crowns, root canals, and dentures are restorative treatments.
Related Article: I'm Busy! Do I Really Need to Schedule My End of Year Dental Exam??
Our Services
The mouth is a busy place, and if you're experiencing oral health problems, you may have to visit multiple specialist and multiple locations. Thankfully, Premier Dental offers a wide variety of services at their one-stop dental shop to get you your healthiest, dream smile in one location with as minimal appointments as possible with Dr. Caye.
Dental exams
Crowns, bridges, veneers
Smile reconstruction
ClearCorrect invisable braces
Dentures
Dental implants
Root canals
Dental implants
Teeth whitening
Dental bonding
Emergency services
And more!
Unique Approach to Every Single Patient
Dr. Caye doesn't use a one-size-fits-all approach with his patients, instead he takes the time to work with each and every patient, one-on-one. Each patient needs a different and unique approach to their oral health. Almost all dental procedures can be done in-house at our location, which makes your appointments run smooth, with your best treatment options (made specially for you and your oral health) in mind.
At Premier Dental, our personalized touch is revolutionizing the dental experience. Our laid-back atmosphere, gentle touch of Dr. Stephan D. Caye, and relaxing amenities will have you looking forward to your next visit. The entire family can also be treated at Premier Dental, making appointments hassle-free and convenient.
Learn more about "What to Expect At Your Next Appointment" HERE.
Dr. Stephan Caye and his friendly, experienced team at Premier Dental offer affordable family dentistry and gentle dental care in the Lee's Summit, MO area. Our office is conveniently located off of Highway 50 and SE Blue Parkway. We offer appointment times Monday through Friday to meet your needs. At Premier Dental, we provide most dental health services, from family and general dentistry to specialty procedures, including dental implants, dentures, endodontic or root canal treatment, teeth whitening, cosmetic dentistry, emergency dental care and much more. We accept most dental insurance plans and offer affordable financial solutions for any budget. Please call us at (816) 600-6330 to schedule an appointment.