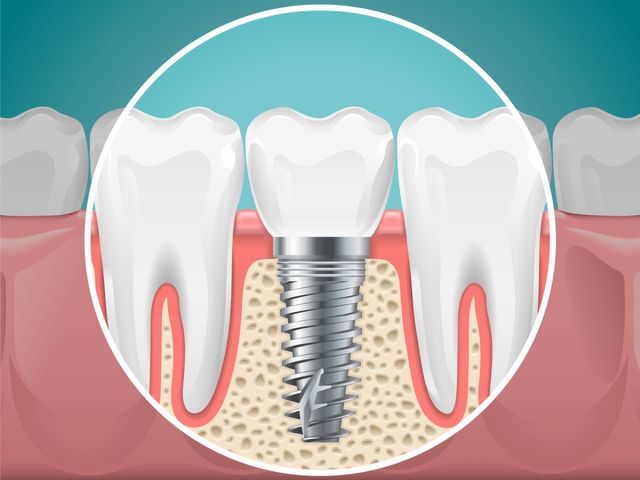 Are you a dental implant candidate to replace your missing tooth? Let's find out…
If you're missing one or more teeth, dental implants may be a wonderful option for regaining your beautiful smile! Dental implants are a great way to replace missing teeth and can change the look and health of your smile.
Having missing teeth can affect the way we chew, talk, etc., so it's imperative to take a look at your replacement teeth options and see what your dentist recommends, and what you qualify for. Dental implants are one of these options, so let's take a closer look at the requirements for dental implants. Most people make a great dental implant candidate and enjoy the full function and restoration of their smile!
Dental implants explained by the Mayo Clinic HERE.
If you have a missing tooth or multiple missing teeth, learn more about Dentures vs Dental Implants: What You Need to Know
5 Signs for Dental Implant Candidate
Good oral hygiene
Teeth and gums in good health
Good bone density for support
You are a non-smoker, or can stop smoking completely
Patience for the process
We will look at why the teeth are missing, your oral health routine, your jawbone strength, and your patience levels before deciding if dental implants are right for you.
You may not have missing teeth, but want to amp up your smile. Learn more about Cosmetic Dentistry Trends and Options.
What is a Dental Implant?
Now that we know what your dentist will look for before a dental implant, let's talk about what a dental implant is exactly. According to Mayo Clinic, "Dental implant surgery is a procedure that replaces tooth roots with metal, screw-like posts and replaces damaged or missing teeth with artificial teeth that look and function much like real ones. Dental implant surgery can offer a welcome alternative to dentures or bridgework that doesn't fit well and can offer an option when a lack of natural teeth roots don't allow building denture or bridgework tooth replacements."
More about Dental Implants Procedure, Cost, Types, Problems & Safety.
Dental implants are implanted through a surgery, as Mayo Clinic described. Basically, what happens is:
You'll have a comprehensive dental exam to make sure you're a dental implant candidate, 3D images will be taken, your medical history will be discussed, and a treatment plan will be put into place if you're a candidate.
After the treatment plan is figured out:
The damaged tooth will be removed, if needed
Your jawbone will be prepared, bone grafting may be needed
The implant will be placed
You'll need time to heal and for the bone to grow around the implant
Abutment is placed
Your artificial tooth (probably a crown) is placed
Recovery time, and then enjoy your smile!
As you can see, there are multiple steps to a dental implant, but the results are natural and long-lasting! If you have any further questions about being a dental implant candidate, please don't hesitate to give us a call today.
5 facts about dental implants HERE.
Ask Premier Dental if YOU are a Dental Implant Candidate 
Being able to chew, talk and smile are an important part of each day and a missing tooth can make an impact on your health and your confidence. Dr. Caye and his expert dental team are able to work with you to discover the best option to restore your missing tooth or multiple teeth and see if you're a dental implant candidate.
Dr. Stephan Caye and his friendly, experienced team at Premier Dental offer affordable family dentistry and gentle dental care in the Lee's Summit, MO area. Our office is conveniently located off of Highway 50 and SE Blue Parkway. We offer appointment times Monday through Friday to meet your needs. At Premier Dental, we provide most dental health services, from family and general dentistry to specialty procedures, including dental implants, dentures, endodontic or root canal treatment, teeth whitening, cosmetic dentistry, emergency dental care and much more. We accept most dental insurance plans and offer affordable financial solutions for any budget. Please call us at (816) 600-6330 to schedule an appointment.