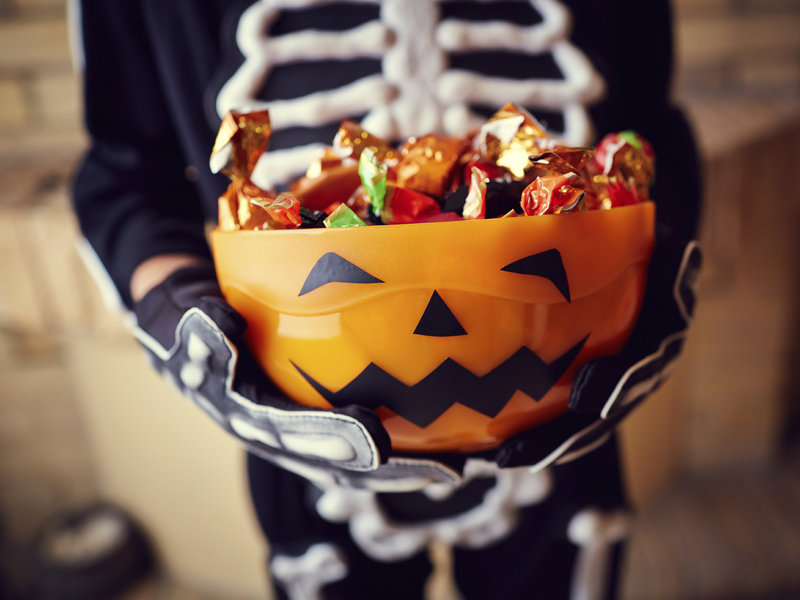 Ghosts, goblins, hauntings, and scary sightings. Halloween is a day where adults and kids alike can forget about being themselves for a day and transform into something, or someone, else. Whether you have plans to dress up as someone frightening or adorable, be aware of the effects certain candies and treats can have on you, or your kids, teeth. Make the most out of Halloween by having a few treats, without overindulging, and keep tooth decay at bay.
Best and Worst Candy Treats
When your kiddo is digging through the mountain of candy in their treat bag at the end of the night, you can look for the best and worst types of treats. Remember, we want everyone to enjoy their Halloween to the fullest and enjoy their night by eating a few treats. Moderation is key to a healthy mouth! Oral health and overall health are tightly interwoven, so keeping your oral health in tip-top shape affects the rest of you.
Want to know the rankings of Halloween Candy from best to worst? Read more here: This Survey Ranks Halloween Candy
Best
Chocolate treats such as chocolate bars, peanut butter chocolate treats, and bite-size chocolate candies are the safest candies to consume.
Hershey bars, Reese's pieces, M&Ms, Twix, Kit-Kat, and other, similar, chocolate treats are the best type of candies you can eat on a Halloween night.
Why You Ask?

It's because chocolate is soft, so you're not putting your mouth through any strenuous chewing, and there aren't any sticky parts getting stuck in-between your teeth.
Chocolate is also easy to wash off and can be brushed off at the end of the night. Just remember to drink water after eating chocolate and keep up with your normal dental hygiene routine to avoid tooth decay.
Worst
Candies that are hard, sour, or sticky are the most dangerous for your oral health.
Why You Ask?

This is because they are often high in acid and take a long time to break down in your mouth.
The longer a piece of candy stays in your mouth, the higher the acid levels reach. When this happens, bacteria can flourish, and enamel can break down, causing tooth decay.
Sticky candies, such as taffy, can get stick in hard to reach areas, making it almost impossible to brush and floss all of the remaining candy out of the mouth.
Related Article: Top 10 Best and Worst Candies for Your Teeth
There is a NEW Most HATED Candy!! It just slid into the #1 spot on this survey: "Worst Halloween Candy". Can you guess what it is??  Make the most of this Halloween by taking care of your teeth and enjoying a few chocolate treats along the way!
Dr. Stephan Caye and his friendly, experienced team at Premier Dental offer affordable family dentistry and gentle dental care in the Lee's Summit, MO area. Our office is conveniently located off of Highway 50 and SE Blue Parkway. We offer appointment times Monday through Friday to meet your needs. At Premier Dental, we provide most dental health services, from family and general dentistry to specialty procedures, including dental implants, dentures, endodontic or root canal treatment, teeth whitening, cosmetic dentistry, emergency dental care and much more. We accept most dental insurance plans and offer affordable financial solutions for any budget. Please call us at (816) 600-6330 to schedule an appointment.