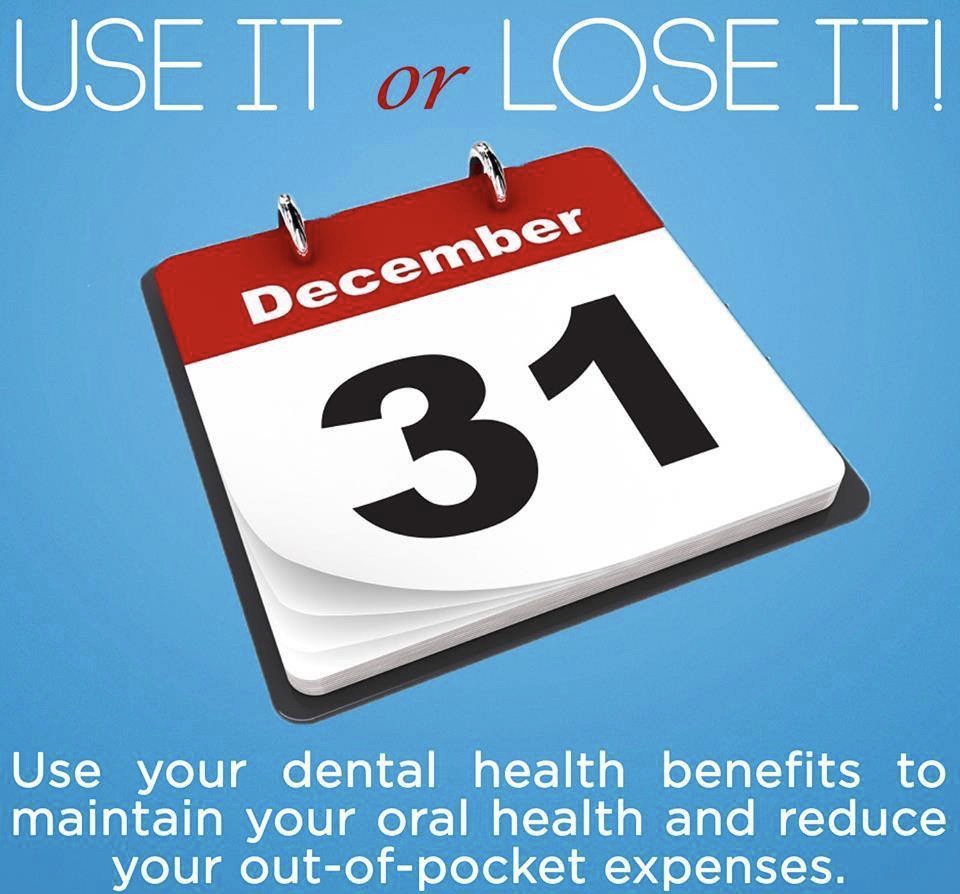 Dental Insurance: Use it OR Lose It
Now that the leaves have fallen and Kansas City has already had several snowfalls, the holidays are upon us and you need to use your 2018 dental benefits before you lose them!
Did you know that your dental insurance benefits expire each year on December 31st? Yep, whether you have used your benefits or not, they expire. (Yes … even though you paid for them!)
So, this is the best time of the year to take advantage of everything your dental insurance provides, especially if you have a toothache that is keeping you up at night or you have dental treatments that you need to have done (like a cavity filled or a crown completed).
Did you know your dental benefits reset every year? It's true. If your dental insurance plan, like most is on a calendar year, you will lose out on all unused benefits after December 31st.
Here are a few of the services you want to have scheduled before you lose the opportunity:
6-Month Dental Exam
Most dental insurance plans provide coverage for two checkups each year, at six-month intervals, for each member of your family that has coverage. Now is a perfect time to get your dental cleaning completed, if you haven't had one in the last six months.
Regular dental checkups help guarantee your teeth and gums are healthy and gives your dental team the opportunity to review your oral health to make sure problems aren't developing. Plus, your teeth, gums and mouth will feel fresh and clean after you enjoy a professional cleaning. You'll leave with a polished smile, which can have you ready for the holidays with a more radiant, confident you.
Large Treatments
If you need more wide-ranging dental treatments that involve multiple visits, the end of the year is a perfect time to get them started. Especially if you've already met your deductible and you haven't met your annual maximum. Once your deductible is paid, your out-of-pocket expenses can dramatically decrease, making it an ideal situation to have larger dental treatments completed.
If you're getting close to your annual maximum, Dr. Stephan Caye and his expert team at Premier Dental in Lee's Summit can help create a plan to maximize your benefits. They'll help you schedule your treatments by splitting them up between this year and next year. This will allow you to use your remaining benefits this year and take advantage of your renewed benefits after the New Year begins.
This way, we can help minimize your out-of-pocket expenses by using your coverage in the best way. Don't forget that if you need more assistance in making the costs more affordable, we offer financing options like CareCredit that will give you the opportunity to spread out-of-pocket costs over a period of time that is more manageable for you, sometimes without interest charges.
After Dr. Caye has reviewed your oral health and developed any necessary treatment plans, we can come up with a financial arrangement that allows you to maximize your dental insurance benefits, and achieve a health and beautiful smile.
Don't let your 2018 dental benefits go to waste; make sure you use them before December 31. Dr. Stephan Caye and his friendly, experienced team at Premier Dental offer affordable family dentistry and tooth replacement options in the Lee's Summit, MO area. Our office is conveniently located off of Highway 50 and SE Blue Parkway. We offer appointment times Monday through Friday to meet your needs. At Premier Dental, we provide most dental health services, from family and general dentistry to specialty procedures, including endodontic or root canal treatment, teeth whitening, cosmetic dentistry, emergency dental care and much more. We accept most dental insurance plans and offer affordable financial solutions for any budget. Please call us at (816) 600-6330 to schedule an appointment.