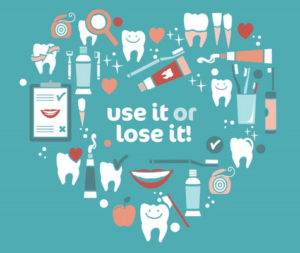 The month of December is a very hectic time of year, and in the midst of planning and enjoying holiday celebrations, it is quite easy to forget to completely use all your remaining dental benefits and to renew your coverage with your dental insurance companies for the upcoming 2018 year.
This is one administrative aspect of managing your health that should go to the top of your "To Do List," as your current dental insurance companies benefits will expire on December 31, 2017. We want to remind you that if you don't use all of your dental insurance benefits by the end of each calendar year, you will most likely lose them, as they do not roll over to the next calendar year.
Dental Insurance Companies: Use It OR Lose It
Your dental insurance plan will have an annual maximum benefit, which may be $1000, $1500 or more. However, if you don't use your maximum benefit by the end of the calendar year, you can completely lose any remaining benefit. All dental insurance companies work differently and have their own rules. So if you aren't sure, please give us a call. We can find out for you.
Some of our patients have already used their benefits and some haven't used any. So, if you can relate to the latter, please give us call to schedule your dental appointment as soon as possible. This time of year gets very busy and appointment times become more limited. We've also found that certain dental insurance companies may only pay the benefits based on the completion date of certain services. For example, if you begin an implant in 2017, you must have it completed within the calendar year of 2017 as well. Otherwise, your benefits will be paid from your 2018 plan, provided that you still have the same coverage.
Remember that sometimes waiting to do have dental treatment completed, based on your dental insurance, can result in needing additional treatment. For example, the small filling you were waiting to have fixed can increase in size and need a crown instead, which can increase your discomfort and the cost will increase as well.
Dental Insurance Benefits: Renew It
Another thing to keep in mind is your dental insurance renewal before the last business day of the year, New Year's Eve, is an absolute priority; because as most of us know, anyone can experience a dental emergency at any moment. Like any health crisis, an emergency with your teeth can be even more painful both physically and financially, if you do not have the resources to pay for necessary procedures and medications.
Dental Insurance Benefits: We Can Help
Whether you need to become enrolled in a plan or currently have insurance and would like to switch dental insurance companies or plans, Premier Dental can offer you feedback based on our experiences with the dental insurance companies we work with, so you can choose the provider that is best for you and your family.
The top three dental insurance companies used by our patients are:
Delta Dental Insurance
MetLife Dental
Blue Cross Blue Shield Dental of Kansas City
Again, these are the Top 3 dental insurance companies listed in order that our patients use.
We accept insurance for scores of commonly used dental insurance companies including: Aetna, Ameritas, BCBS KC, BCBS MO, Cigna, Delta Dental, Dental Health Alliance, Guardian, Humana, MetLife, Premier Dental, Principle and United.
Of course, if you are with any other insurance company, our helpful staff can call and have your insurance verified for you.
The last thing we want, as dental professionals, is for anyone to avoid treatment or live with a dental problem because they cannot afford it to have it fixed. Rest assured that we treat every patient's situation on an individual basis, in order to make it as simple as possible for you to acquire dental insurance.
Our Motto is "No Insurance, No Problem"
At Premier Dental, we understand that not everybody is enrolled in a dental insurance plan and if that is your situation, we want to assure you that your dental health comes first. We offer affordable dental care to our patients, and we also make sure our quotes are as accurate as possible so you are not shocked by any charges on your bill. We can also help you arrange to finance your treatment using CareCredit. This is a credit card that allows you to pay in installments for procedures that cost over $200 or more over the course of one year.
However, keep in mind that you can minimize or even eliminate your treatment financing if you practice the preventative measure of acquiring new dental insurance before the end of 2017. You are also less likely to have to apply for financing if you remember to renew your insurance for 2018, as you will have the security and peace of mind that comes with having ample coverage.
Click HERE to visit our Patient Resources area of our website.
Don't lose your 2017 dental insurance benefits when they expire on December 31, 2017. Schedule your dental appointment at Premier Dental now by calling (816) 600-6330.
Dr. Stephan Caye and his friendly, experienced team at Premier Dental offer affordable family dentistry and gentle dental care in the Lee's Summit, MO area. Our office is conveniently located off of Highway 50 and SE Blue Parkway. We offer appointment times Monday through Friday to meet your needs. At Premier Dental, we provide most dental services, from family and general dentistry to specialty procedures, including dental implants, dentures, endodontic or root canal treatment, teeth whitening, cosmetic dentistry and much more. We accept most dental insurance plans and offer affordable financial solutions for any budget. Please call us at (816) 600-6330 to schedule an appointment.