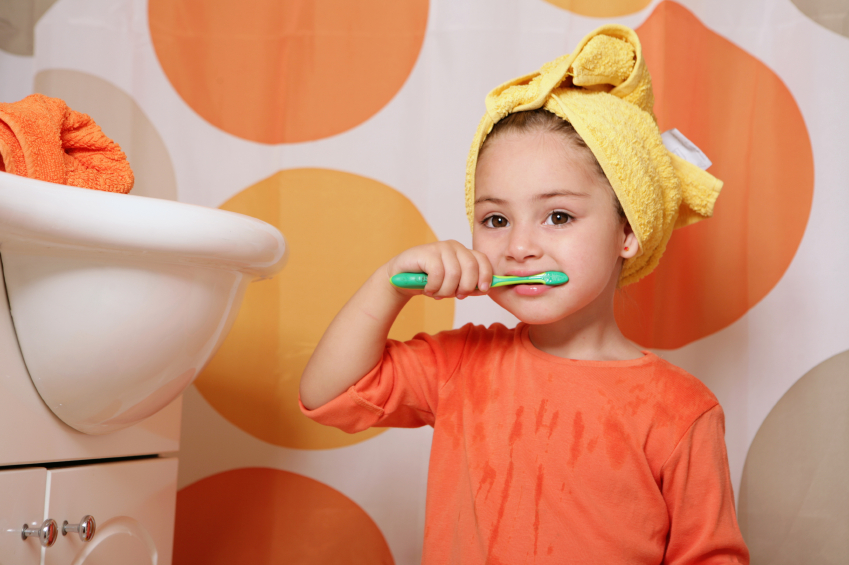 Offering dental health services to children of all ages (0-100) is our passion! In celebration of National Children's Dental Health Month, we have compiled a list of some useful ideas and tips, that we hope may help you find the best way to teach your kiddo how to properly brush and care for their teeth. While teaching a particularly young child the right way to brush, floss, and develop a good oral health care routine may seem like a daunting task. But, sometimes a little imagination and a few simple changes can make all the difference!
Kids and Teeth
At Premier Dental, we offer dental health services for kiddos of ages 0 to 100! So, oral health and patient education is very important to us!
When it comes to children's oral health, it's certainly always a good idea to foster the habit of practicing proper oral hygiene from an early age as this helps cement the fundamental nature of oral health. However, when it comes to teaching children exactly how and why it's necessary to correctly care for their teeth, things are likely to get a bit trickier! Surely as you know by now, teaching kids is not an exact science, and while there are countless beliefs and theories on the subject, finding the right approach can be difficult. Keeping this in mind, according to many primary school administrators, young children are often creatures habit, and thereby learn most effectively when taught in repetition or in a type of pattern. Obviously, this may require a bit of creativity and certainly some old fashion "hands-on parenting" but taking the time to teach your child the fundamentals of oral hygiene is truly a fun and rewarding endeavor!
Six Tips for Oral Health:
Begin with the basics: Sure, this may seem like a given, but with a young child, it's important to start at the most basic point possible. This may include showing your child how thoroughly brush their teeth, (including all the hard to reach places!) as well as how long to brush and how much toothpaste is needed. Remember, flossing is important too so once they've got brushing down, flossing is a good second step.
Make it fun: Well here's your chance to tap into your inner child. While brushing might not always be the most exciting activity, it certainly doesn't have to be boring either. So, make a game out of it! Perhaps it's a contest to see who can have the cleanest teeth or the whitest smile? Introduce a little creativity and throw in some enthusiasm, you might be surprised what can happen! Check out these activities from the American Dental Association to get your kiddos excited about their oral health: Connect the Dots, Crossword Puzzle, Coloring Sheet
Lead by example: When it comes to your kid, who's a better role model than you? Let your child observe your brushing routine. By stressing the importance of proper technique and engaging in it yourself, your children will be much more likely to follow suit.
Buy something special/Add incentive: While we understand you might be initially reluctant to actually go out and buy something, remember sometimes a little added incentive can make a world of difference! Perhaps getting some new toothpaste in their favorite flavor, or letting them pick out a cool new toothbrush? While such a slight change might not seem like much to you, your kids will certainly notice the difference! Check out this Brushing Calendar from the ADA! Hang it in your child's bathroom and let them color in the blank or add a sticker after they brush each morning and night!!
Make it a routine: As mentioned earlier, children thrive on routines, so you've gotta stick to it! Whether you're making it a game, participating yourself, or incorporating some fun accessories, consistency is always the key, so make oral hygiene part of their daily morning and evening routine. The longer your kids continue to perform these chores regularly, the more they will begin to accept them as part of daily life.
Schedule regular visits to Premier Dental: We all know it's important to visit Dr. Caye at Premier Dental twice each year for regular dental cleanings, as preventative care is very important for our little patients. It also helps them become familiar with visiting our office and our expert team makes it fun too! We offer dental health services from cleanings, X-rays and sealants to cosmetic dentistry and ClearCorrect, invisible braces for teens and adults and everything in between!
No time better than now!
As National Children's Dental Health Month swings into full gear, there is perhaps no better time than now to give your children some hands-on lessens in oral heath and hygiene. We hope the information above may provide you with some fresh information and ideas, or at least serve as a helpful reminder to make sure your kids are practicing proper oral hygiene and getting the dental health services they need. If you have any concerns or would like some additional tips and information please contact our office! We look forward to meeting you and your family!
Dr. Stephan Caye and his friendly, experienced team at Premier Dental offer affordable family dentistry and gentle dental care in the Lee's Summit, MO area. Our office is conveniently located off of Highway 50 and SE Blue Parkway. We offer appointment times Monday through Friday to meet your needs. At Premier Dental, we provide most dental health services, from family and general dentistry to specialty procedures, including dental implants, dentures, endodontic or root canal treatment, teeth whitening, cosmetic dentistry, emergency dental care and much more. We accept most dental insurance plans and offer affordable financial solutions for any budget. Please call us at (816) 600-6330 to schedule an appointment.