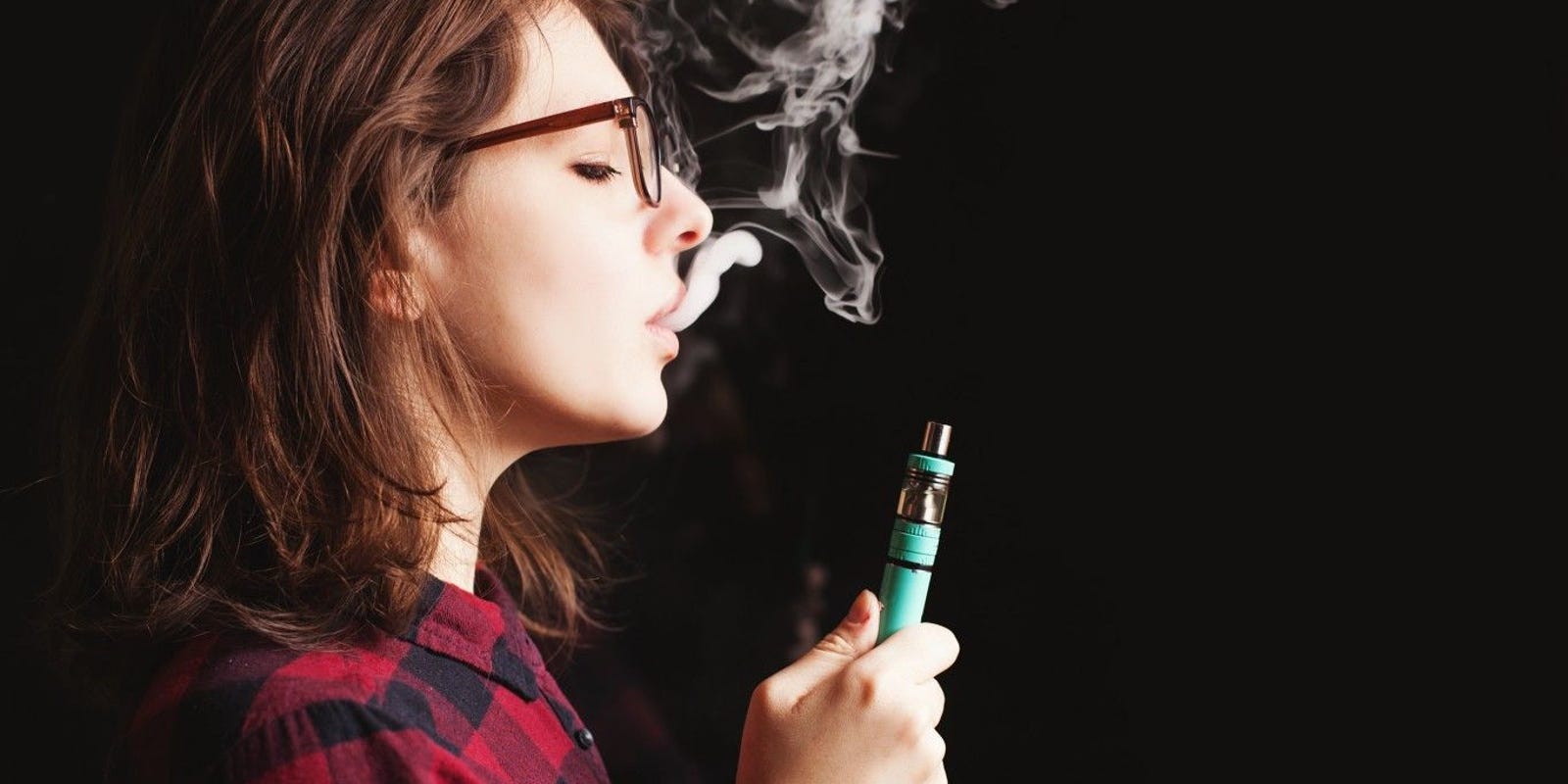 Have you heard about the dangerous vaping trend?
Cherry, strawberry shortcake, blueberry bliss, and mint chip; the flavors of vape juice are completely endless and appealing. The trend seems fun and exciting for many, with so many flavor combinations and accessories. People are vaping all around the world, with as estimated number of 41 million people participating in vaping and e-cigarettes this year, according to the BBC. However, with more information emerging about the health dangers of vaping, it's not surprising to learn that vaping has some major negative effects to your oral health as well.
Related: CDC Confirms Lung Injuries Associated with Vaping – https://www.cdc.gov/tobacco/basic_information/e-cigarettes/severe-lung-disease.html
Vaping Leads to Cavities and Gum Disease
The ingredients in vape juice, when warmed up in a vaping or e-cigarette device, can cause up to four times the normal amount of bacteria in the mouth, according to Dentistry Insider. When there's an above-average amount of bacteria sitting in the mouth, decay begins to happen, and cavities are in the near future.
A similar thing happens after ingesting a sugary drink – bacteria counts spike because of sugar. Without brushing after vaping, bacteria will begin multiplying in the mouth and create plaque. When plaque is created and not scraped off the teeth, cavities and gum disease begin to form. Studies have also confirmed that vaping speeds up cell aging and damage, further putting your oral health at risk.
Read more about how to avoid gum disease, here. Our oral health and overall health of our bodies are very connected, read more here.
Learn more about cavities: https://www.webmd.com/g00/oral-health/guide/dental-health-cavities?i10c.ua=1&i10c.encReferrer=aHR0cHM6Ly93d3cuZ29vZ2xlLmNvbS8%3d&i10c.dv=18
Dangerous Vaping Trend Invades Schools
The truth is, some teenagers don't even know what exactly they're vaping and may be unknowingly ingesting nicotine and other substances that are addictive and harmful. In 2018, 4.9 million teenagers and school-aged kids confirmed their use of vape and e-cigarette products.
Dr. Crystal Stinson, assistant professor in public health sciences, spoke with Dentistry Insider on the dangers of vaping and oral health. She said,
"The flavorings and components of e-cigarettes change the oral microbiome and the pH of the saliva. Those two things can increase the risk of caries and periodontal disease. If you ask most kids what is in [e-cigarettes], they don't even know its nicotine. Most people think it's just water vapor."
Read more on vaping risks: https://www.scarymommy.com/vaping-bad-for-teeth/
At Premier Dental, we want your oral health to be in great shape and love helping our patients achieve their dream smile. For questions on this dangerous vaping trend and smoking, please give us a call. If you are vaping and are experiencing swollen or irritated gums, please call us and we would love to get you an appointment at your earliest convenience.
Dr. Stephan Caye and his friendly, experienced team at Premier Dental offer affordable family dentistry and gentle dental care in the Lee's Summit, MO area. Our office is conveniently located off of Highway 50 and SE Blue Parkway. We offer appointment times Monday through Friday to meet your needs. At Premier Dental, we provide most dental health services, from family and general dentistry to specialty procedures, including dental implants, dentures, endodontic or root canal treatment, teeth whitening, cosmetic dentistry, emergency dental care and much more. We accept most dental insurance plans and offer affordable financial solutions for any budget. Please call us at (816) 600-6330 to schedule an appointment.