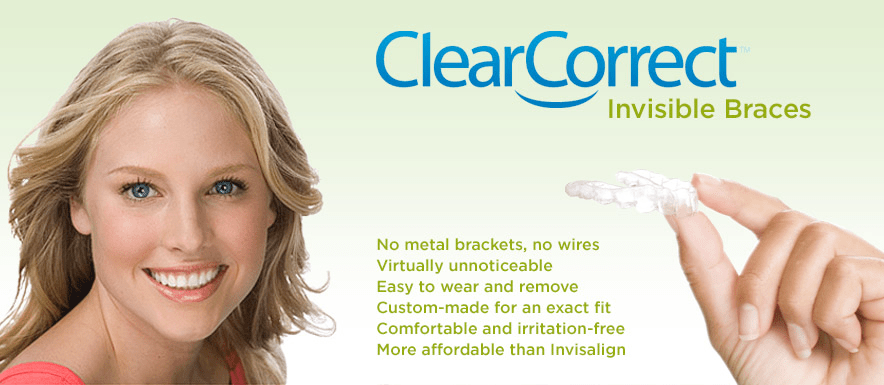 ClearCorrect clear braces are clear aligners that can straighten your teeth invisibly, without metal braces.
ClearCorrect clear braces can correct a wide variety of dental issues that keep people from achieving a smile that they love. Straight teeth don't just look better; they function and work better too! If your teeth aren't properly aligned, they may not bite properly; they may wear out faster and are more prone to cavities.
ClearCorrect clear braces can correct a wide variety of dental issues that can keep you from having a smile that you love, including:
Overbite
Overjet
Midline Misalignment
Spacing
Crowding
Why are braces (orthodontics) important? CLICK HERE to watch this video and find out!
What are the Benefits of ClearCorrect Clear Braces?
Invisible:
The benefits are clear! No one has to know you're wearing braces, because they don't interfere with your speech and they're nearly invisible.
Removable:
You can comfortably wear your aligners all the time and easily take them out while you eat, drink and brush your teeth. So, you can continue to eat your favorite foods! And there are no wires to trap food while you eat, like there are with regular metal braces. You can floss normally too!
Made in America:
ClearCorrect is made in Texas and we love American-Made products!
How do ClearCorrect Clear Braces Work:
Schedule Your Appointment:
Call Premier Dental in Lee's Summit at 816-600-6330 to schedule your appointment with Dr. Caye.
Get Evaluated:
If you're a good candidate for clear aligners, Dr. Caye will take photos and x-rays, use a scanner or impressions to capture the shape of your teeth, and submit your prescription to ClearCorrect. Then, he'll prescribe the movements your teeth will need to make to achieve your ideal smile.
Wanna know more? CLICK HERE to check out this video!
Wear Your Aligners:
We'll make a series of aligners customized to apply pressure to the teeth that you want to move from crooked to straight.
Dr. Caye will check your progress periodically and give you new sets of aligners. You'll wear the aligners for at least 22 hours per day, progressing through each step until your treatment is done.
Most treatments take several months or longer, depending on the severity of your case. Regardless, you'll love seeing your results right away!
Wanna see real results? CLICK HERE to check out these videos of actual ClearCorrect patients.
You deserve a beautiful smile and we'd love to help you achieve it! ClearCorrect is for both adolescents and adults and is covered by many dental insurance plans that include orthodontic appliances. You can even use your flexible spending account (FSA) or health savings account (HSA).
Dr. Stephan Caye and his friendly, experienced team at Premier Dental offer affordable family dentistry and gentle dental care in the Lee's Summit, MO area. Our office is conveniently located off of Highway 50 and SE Blue Parkway. We offer appointment times Monday through Friday to meet your needs. At Premier Dental, we provide most dental services, from family and general dentistry to specialty procedures, including dental implants, dentures, endodontic or root canal treatment, teeth whitening, cosmetic dentistry and much more. We accept most dental insurance plans and offer affordable financial solutions for any budget. Please call us at (816) 600-6330 to schedule an appointment.